At Baby Gear Essentials we feel that creating a baby registry is the best and easiest way to keep a list of everything you need and help your friends and family at the same time. The Amazon Baby Registry is our overall favorite baby registry for a variety of reasons.
5 steps to create An Amazon baby registry
Creating your baby registry on Amazon is very easy, click the step to see a more detailed illustrated guide:
Step 1: Go to the Amazon Baby Registry section.
Step 2: Click 'Create a baby registry' button.
Step 3: Configure your baby registry.
Step 4: Add items to your baby registry.
Step 5: Share your baby registry with friends and family.
Bonus Tips: How To Take Full Advantage of Your Amazon Baby Registry
Ready? Let's walk through the process step-by-step.
Creating an Amazon Baby Registry: An Illustrated Guide
Step 1: Go to the Amazon Baby Registry Section
Go to Amazon's Baby Registry section. If you're not logged into your Amazon account or if you don't have an Amazon account yet, you'll see a page asking you to login or create your account first.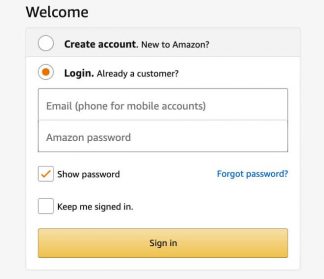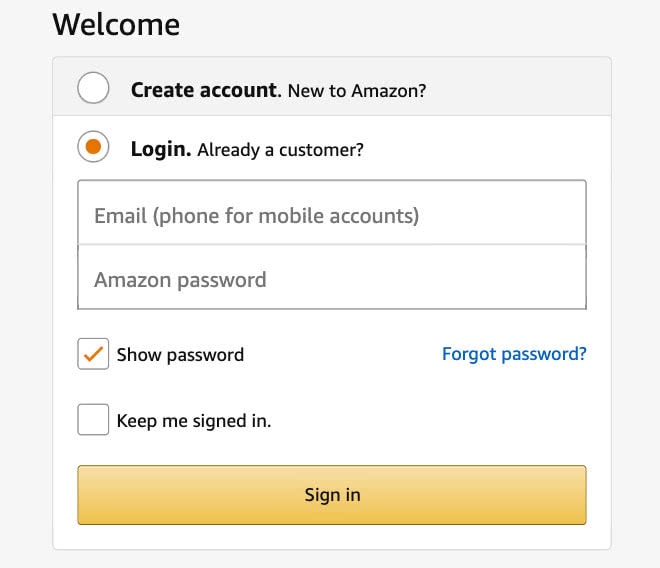 Step 2: Click 'Create a baby registry'
Now that you're logged in and at the baby registry section, click the 'Create a baby registry' button to create your Amazon baby registry.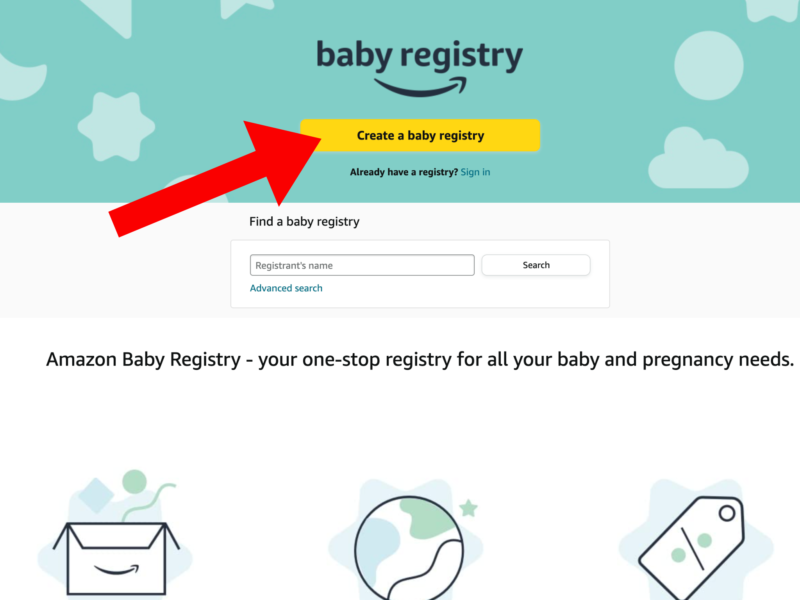 Step 3: Configure your Amazon Baby Registry
You should now see a form asking you to complete a few basic information questions.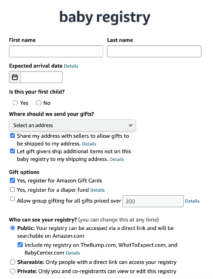 Gift Sending is one of the most important things to consider. You can ship to your home address if you're okay with leaving parcels on your doorstep, or you can select your office address to make sure someone is always available to collect your deliveries.

Gift Options allows you to select to register for Amazon Gift Cards, register for a Diaper Fund and allow group gifting for all gifts priced over a certain amount. For the most flexibility, we recommend enabling all these boxes.

Who can see your registry is fairly straightforward and can be changed at any time. You have three options:
Public: Anyone can find and see it online. As part of this option, you can also select to make your registry visible on other websites.

Shareable: You'll receive a private link that you send to your friends and family. This is our preferred option.

Private: You'll be the only person able to see your baby registry. Many people use this until they are ready to share their link.
Helpful Note: Diaper Fund
The Diaper Fund checkbox allows family and friends to contribute up to $550 towards diapers. The idea is great, because you can get the size and brand you want when you need it. However, we don't like that it comes in the form of gift cards at a capped amount.
Alternatively we recommend Diaper Shower. They allow you to have a true diaper fund, that isn't capped and can be used at any time.
Step 4: How to Add Items to Your Amazon Baby Registry
After creating your baby registry, you'll be taken to a page that lets you add items to your list. As you add items to your wishlist, your registry will start to fill out and you can easily edit or remove the products on your registry at any time.

There are three ways for you to start adding items to your baby registry on Amazon: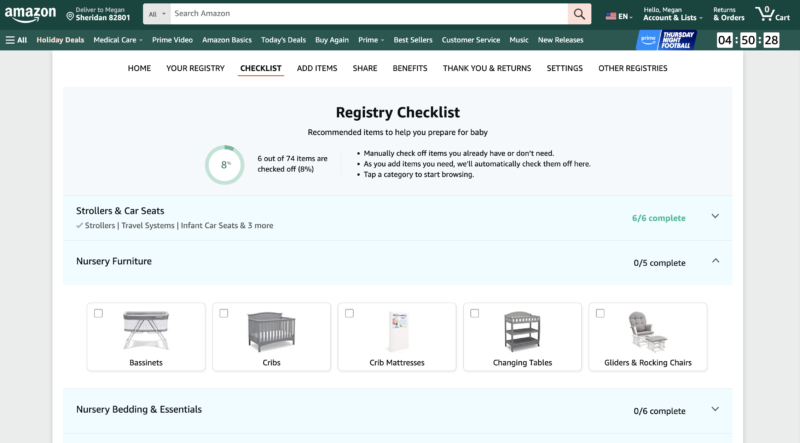 1. Use the registry checklist: it's a curated list of baby essentials prepared by Amazon to help you get started. The checklist is organized by categories that you can click to see a list of items under each category.
2. Find specific items: if you already know what you want or have used Baby Gear's Best Lists to identify the best items for your registry, you can add an item to your registry directly from the product page.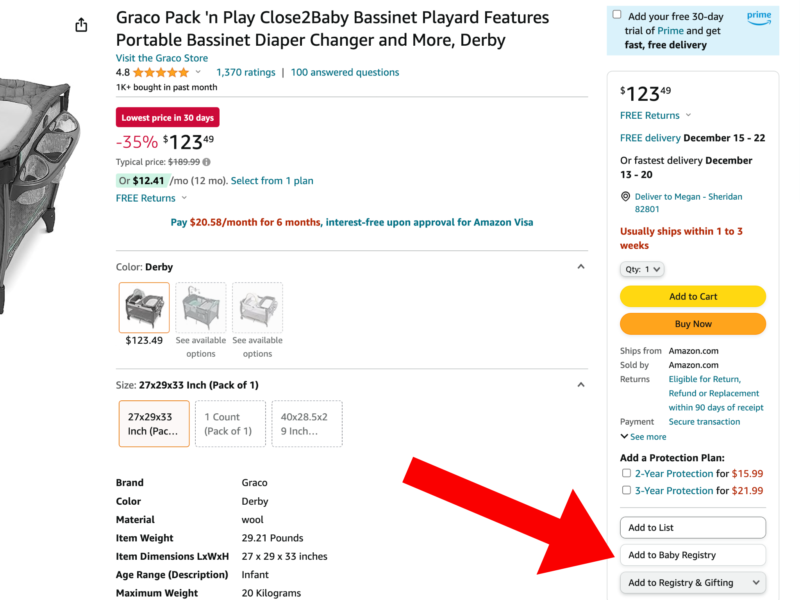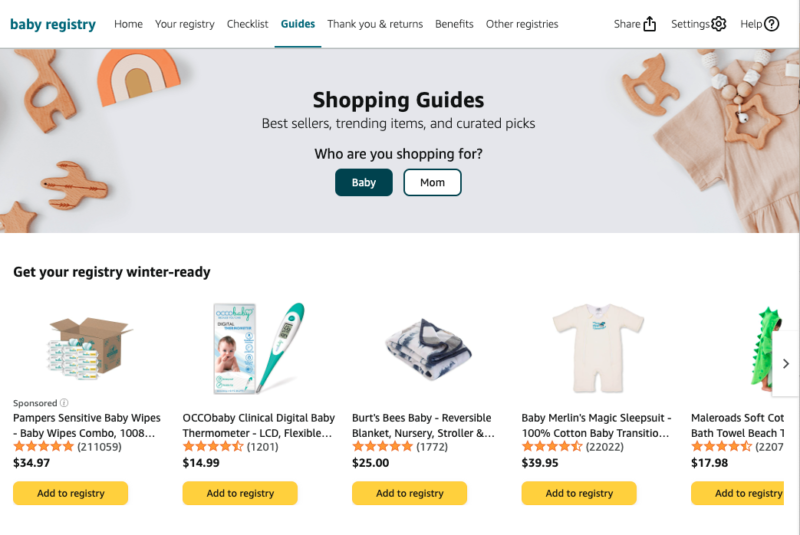 3. Browse product Guides: Amazon has a section called 'Guides' filled with ideas; however, we don't prefer this route since the products are often sponsored and the information is limited in the list view.
Mark Items As Must-Haves in Your Amazon Baby Registry
With baby registries it's important to put a variety of options at a variety of prices. It's also a great idea to show your friends and family which items are most important to you.

Amazon has a "Must have" feature that allows you to mark items on your registry list as more important.
To mark an item as "Must have":
Go to your baby registry and click the 'Your registry' tab.
You should see a list of registry items, click 'Edit' on the item you want to update.
Check 'Make a must-have item' under Additional options.
Click 'Save changes'.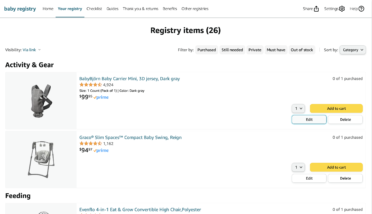 ***Note: you can also make other updates in the 'Edit' section including leaving a note for your guests.
Where to Find Your Amazon Baby Registry
Once you return to Amazon or if you navigate away from this page, locating your Amazon baby registry can be a little tricky. In fact, we found three completely different ways to locate your Amazon baby registry:
Clicking Accounts & Lists:

Click on the 'Account & Lists' button in the upper right hand corner.
Click 'Your Lists'.
Select the third tab: 'Baby Registry'.

Using Lists:

Click the 'Accounts & Lists' dropdown in the upper right hand corner.
Click 'Find a List or Registry' under the 'Your Lists' section.
Click 'Your Registries & Gift Lists' in the breadcrumb navigation and select 'Baby Registry'.

Using the Main Navigation:

Click the hamburger 'All' button in the upper left corner.
Scroll to 'Shop By Department' and click 'See All' to expand the list.
Click 'Toys, Kids & Baby', then click 'Baby'.
Click the second tab: 'Registry'.
Step 5: How to Share Your Amazon Baby Registry with Family and Friends
Now that your baby registry is ready, it's time to share it with others. Remember, you can always add or remove items to your registry even after sharing it with your friends and family.

To share your baby registry, simply click on the 'Share' icon in the top right of the Baby Registry section.

If you selected to have your baby registry Public or Shareable to people with the link, this is where you'll be able to get that link. Simply send that URL to anyone interested and they'll be able to see your registry.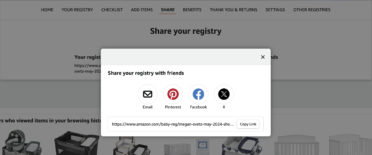 When opening that link, your friends and family will be taken to your baby registry on Amazon. They'll be able to filter your wishlist by price (low and high) and also by order of importance.
5 Bonus Tips for Your Amazon Baby Registry
Bonus Tip 1: How to Claim your Amazon Baby Registry Welcome Box
To claim your Welcome Box, You will also need to join Prime if you don't have an account yet. You can sign up for Amazon Prime here. It's quick and easy and you'll get amazing benefits out of it.
Then add at least 10 unique items to your baby registry (checking off the checklist in the process).

You'll also need to have received at least $10 worth of gift from your registry. Note that this can be something you bought for yourself if you want as well, just make sure it was on your baby registry when you bought it.
Lastly request your Welcome Box from Amazon.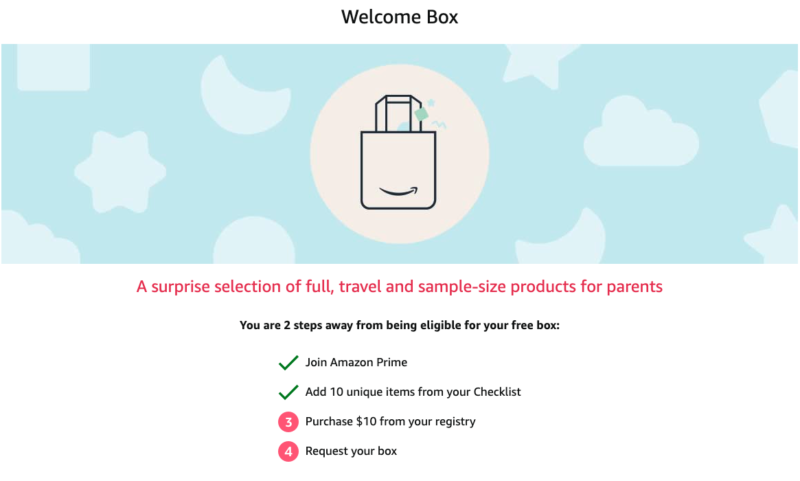 So, what's in the Welcome Box? The Welcome Box is a surprise selection of full, travel and sample size products for parents-to-be and baby. Here's a selection of what you might expect.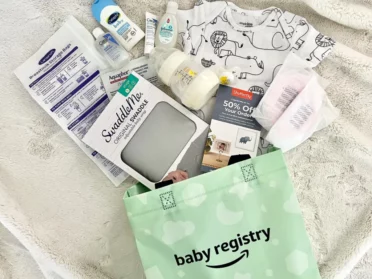 Bonus Tip 2: How to Use your Amazon Baby Registry Completion Discount
The Amazon Baby Registry Completion discount is an excellent benefit of setting up an Amazon Baby Registry. The idea is that you can purchase anything that's on your list at a discount price two months ahead of your due date.

In total, you can use your discount on up to two orders of $2,000, for a maximum discount of $300!
***Note that you don't have to rush to buy things with your discount before your baby is born. The discount is valid after 14 days of your registry being active, 60 days before and for 90 days after the date you entered as the arrival date on the registry.
Helpful Note
Make sure to add any item that you want to your baby registry, even if there is an essential that you'll need before your baby is born, just add it to your list. To qualify for the completion discount, items must be added to your cart from your registry.
Bonus Tip 3: How to Send a Thank You from your Amazon Baby Registry
Amazon automatically generates a Thank You list to help you track who has purchased what from your registry. You can send a Thank You note electronically or use the list to track if you send a handwritten note.

To access your Thank You list:
Go to 'Thank You & Returns'.
From there, you can select the 'Send Thank You' button next to each gift giver's name.
This will open a pre-written thank you note that you can edit and personalize before sending.
Note: Your Thank You List shows the names and the addresses of the person who bought items from your Baby Registry. Some gift givers don't share their address, so their address isn't displayed. Gifts purchased by the Baby Registry owner don't show in the Thank You List.
Bonus Tip 4: How to Return Items from your Amazon Baby Registry
The idea of a baby registry is to help you avoid awkward situations when receiving unwanted gifts. But this may still happen or we may change our minds about an item. Returning a baby item to Amazon is actually one of the biggest complaints we see about the Amazon baby registry.
To avoid some headaches, we wanted to explain how to return an item from your Amazon baby registry as well as call out steps you can take to avoid some drama.
To return an item from your registry:
Go to the 'Thank You & Returns' tab on the baby registry page.
Find the item that you wish to return.
Select 'Return Item'.
Follow the prompts to submit a return for your gift.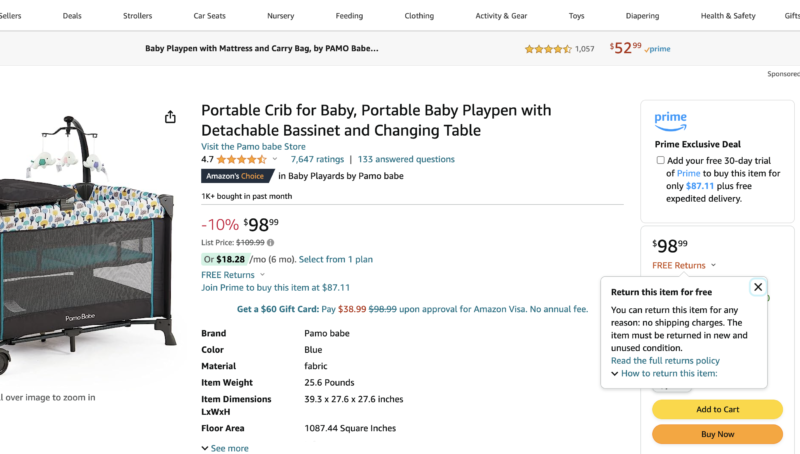 Notes on returns to avoid some drama:
Gifts purchased from your Baby Registry are eligible for free returns within 365 days of the receipt of your shipment. EXCEPT baby items purchased by the registry owner, they can be returned within 90 days of receipt of shipment.
Seller returns policies may vary. When you are selecting items from your registry, make sure the listing is not a third-party seller and ensure the listing is eligible for Amazon Prime (making it subject to the same return policies as items fulfilled by Amazon).

If you do happen to find an item you want by a third-party seller, read the return policy. Some items cannot be returned or have to be unopened to be returned. Some items you must pay shipping or a percentage of the refund may go towards shipping.
Bonus Tip 5: How to Delete your Amazon Baby Registry
At Baby Gear Essentials, we are highly aware of security and don't love the idea of information floating around the web about us. That's why we recommend deleting your registry several months after the baby has arrived.

Wait a bit, just in case you have some guests lagging to make last minute purchases for you and your little one. Also it is important to note, you can't retrieve your Baby Registry after you delete it.
To delete your Amazon baby registry:
Go to your baby registry page.
Click 'Settings' in the upper right.
Scroll to the bottom of the form and click 'Delete your registry'.
Confirm you want to by clicking 'Yes, delete my registry'.
If applicable, verify deletion by re-entering your account password.
Confirm deletion by checking that the baby registry page no longer appears.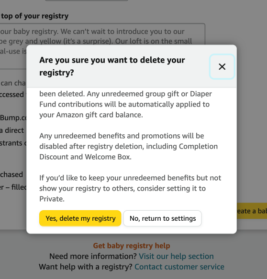 How to use Amazon Baby Registry as a gifter
If you've received a link from new or soon-to-be parents sending you to their baby registry on Amazon, you're in luck! It's one of the easiest ways to buy a gift that you know they'll want, while staying within your budget.

You can use the link to be taken to their page, or search for an Amazon baby registry.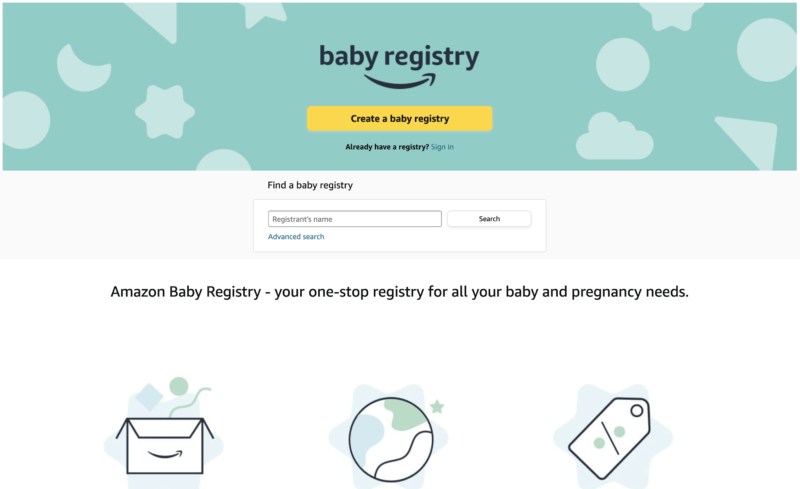 Once you are directed to the registry, you have the option to filter by price and priority in the top right.
Helpful Note
When buying a gift from an Amazon Baby Registry, make sure to check this box to let the parents know that the gift is coming from you, and to make sending a Thank you card a little easier.


Why use Amazon Baby Registry: 6 reasons why we think it's the best (and a disclaimer)
If we recommend Amazon Baby Registry, it's genuinely because we think it's the best option available right now. It's the one we use for ourselves and our family. We wouldn't recommend it to you otherwise. If you sign up for an Baby Registry using a link from our website, we do earn a small referral commission.
Here is a list of the Pros and Cons of choosing to use Amazon for your Baby Registry:
PROS:
Largest selection of baby products available online.
Quick and easy to set up.
Family and friends are typically familiar with Amazon.
Additional perks, especially if you are a Prime Member.
Alternative gifting options such as gift cards/group gifts/diaper fund.
CONS:
Third party sellers and returns.
Receiving used or damaged products.
Items may go in and out of stock.
A great solution we recommend is having more than one baby registry. Take a look at some of our other favorite baby registries to see if they satisfy what you are looking for.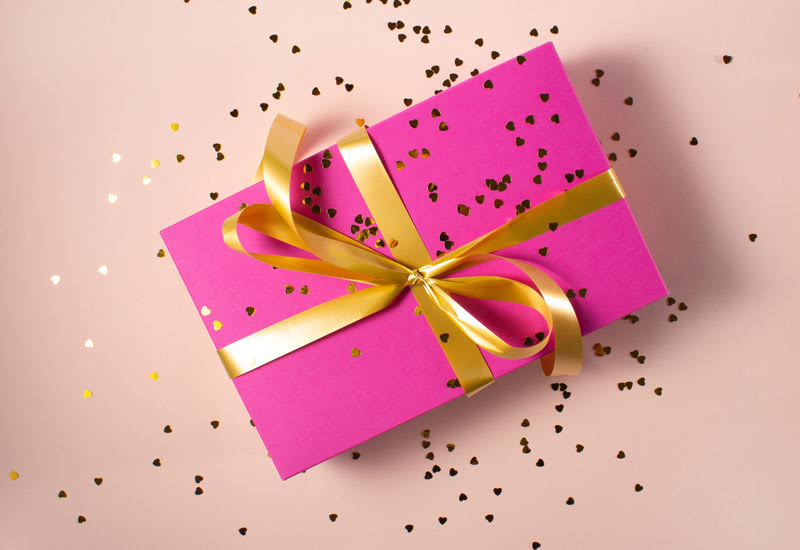 Alternative Baby Registry Options to Amazon Baby Registry
Best Baby Registry for Returns: Target
Target is a favorite store of most soon-to-be-mom's and our top pick for the best baby registry for returns. They have a variety of baby products including: furniture, bedding, clothes, and everyday items.
Best Baby Registry for Budget Items: Walmart
Arguably the most accessible physical store in the United States, Walmart always seems to have all your baby care items and for a great price. We recommend setting up a Walmart baby registry especially if your guests have a smaller budget.
Best Baby Registry for Nursery Decor: Pottery Barn
Pottery Barn is the best option for high quality furniture, bedding and more for your nursery. We highly recommend setting up a baby registry there if you are looking for these types of items.
Best Baby Registry for Remote Showers: Diaper Shower
For remote companies or groups looking for a simple, but great gift, Diaper Shower may be just the thing. This company was created by mothers during covid and allows guests to give as much or as little money as they want to a fund to buy diapers.
Best Baby Registry for Custom Items: Etsy
If you are looking to support a smaller or local business, or just love hand-crafted items, we recommend looking at Etsy for your baby registry.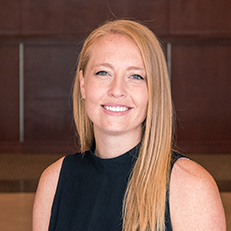 Megan is a wife and mother of three, as well as an experienced foster mother. She loves building and testing new products, and helping identify what works best for readers and clients. She has her degree in Computer Software Engineering and has been a Product Lead with over 8 years of experience designing, building, testing, and selling products to companies ranging from sole proprietors to the largest retailers in America!