A jogging stroller built for secure and speedy adventures, no matter where you need to be.
Our verdict on the Joovy Zoom 360 Ultralight Stroller
When you're looking for a jogging stroller, you want something that keeps your child safe while you're on the run. You need it to feel sturdy, yet not so roomily reinforced that it will weigh you down as you get those steps in. You need a stroller built with activity in mind–so you may not need every feature available in pricier, bulkier products.
The Joovy Zoom 360 Ultralight is a durable stroller–perfect for hardier environments and rugged terrain, as well as the sidewalks of cities and suburbs. It may not have the polished feel of more high-end strollers like the UPPAbaby Cruz V2, but it is very secure and convenient for highly utilitarian, everyday use.
Its adjustable canvas seat and vented canopy are soft enough for your child's comfort, yet clearly intended to be as useful, lightweight, and weather-resistant as possible. This three-wheeled lightweight stroller has all of the safety features you need to be sure your child is safe, and just enough storage for necessities–but nothing more.
You may be wondering, as I was, if this jogging stroller is appropriate for everyday or non-running use. Because it folds easily, has adequate storage, and comfortable-for-baby features like a reclining seat and a peekaboo screen, the Joovy Zoom 360 Ultralight can be used as an everyday stroller, if you're a frequent runner.
However, if you like lots of features, this may not be the stroller for you. You should check instead our review of the excellent Summer 3DLite, the overall best stroller of the year based on our tests. On the other hand, if you're looking for a minimalist stroller which helps running parents feel light as air while toting children along, this is a great choice.
Our Rating: 9.2/10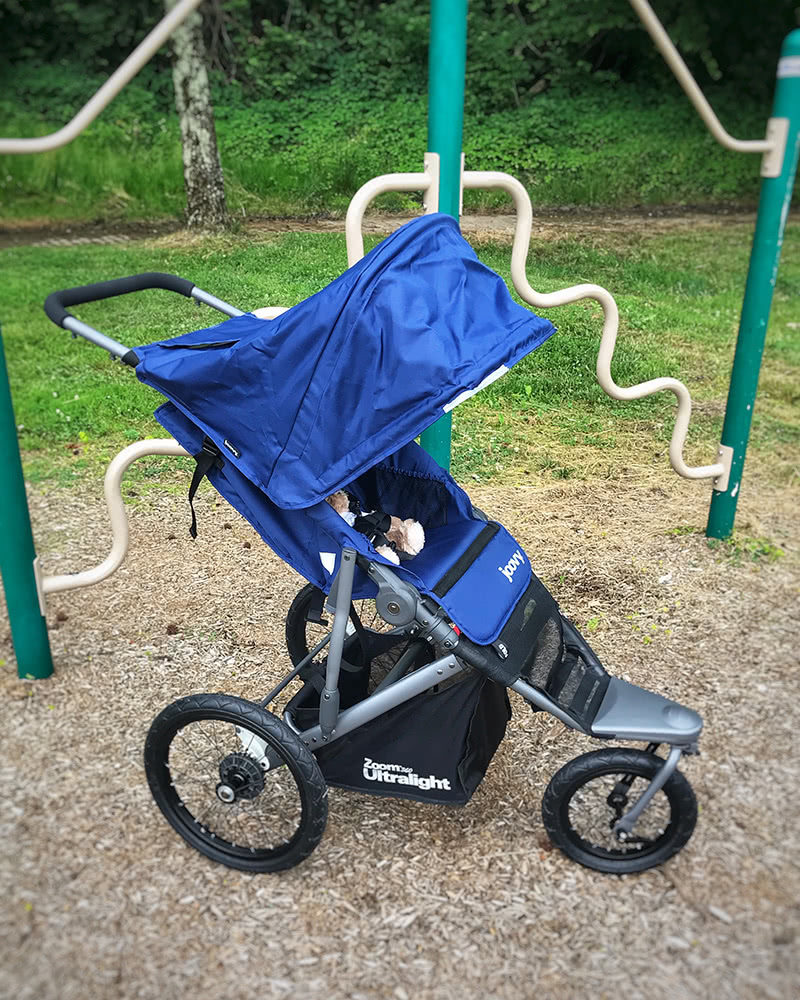 Summary
We like:
The compact shape and size to which the stroller folds.
The reliable brakes and wheel locks.
The sturdiness of the lightweight, aircraft-grade aluminum frame.
We don't like:
The tent-like feel of the fabric.
The high amount of pressure needed to release the brake.
The tires have to be monitored and kept fully pumped.
Where to buy: Check price on Amazon
Alternatives:
Specifications
Minimum Child Age: From birth, with appropriate car seat adapter, or from 3 months of age without. (Please note that it's a good idea to check with your doctor as to the advisability of jogging with a baby under one year old. Newborns do not have the muscles necessary to support their heads, making running with a baby under one-year-old a potentially risky endeavor. It's a good idea to check with a pediatrician if you have any doubt as to the safety of your jogging practice or jogging stroller.)
Maximum Child Weight: 75 lbs or 34 kg
Size when open, with the front wheel locked: 54 x 25 x 46 in (1.37 x 0.63 x 1.16 m)
Size when open, with the front wheel unlocked: 49 x 25 x 46 in (1.2 x 0.63 x 1.16 m) (NOTE: this is the size required for entry to many amusement parks!)
Size when folded: 34 x 25 x 19 in (0.86 x 0.63 x 0.48 m)
Weight of stroller: 25.7 lbs (11.65 kg)
Seat Back Height: 18 in (0.45 m)
Headroom: 22 in (0.55 m)
Height to Handlebar: 41 in (1.04 m)
Features
| | |
| --- | --- |
| Washable insert | Yes |
| Tray | No |
| Front and forward facing configuration | No |
| Peekaboo screen | Yes |
| Detachable carrier | No |
| More than one kid | No |
| Waterproof canopy | Yes |
| Sun protection canopy | Yes |
First, Do You Need a Jogging Stroller?
Before delving into the finer aspects of what the Joovy Zoom 360 Ultralight can offer you as a jogging stroller, you might be wondering: Do you need a jogging stroller? Particularly if you're just looking to purchase one stroller, it's a good idea to consider what your everyday activities and environment necessitate.
It comes down to the surfaces you'll be jogging upon. For smooth sidewalks and sleek tiled floors, it's unlikely that a jogging stroller will be necessary. Jogging strollers, the Zoom 360 Ultralight included, are built to absorb bounciness from quick paces and uneven surfaces. The three-wheel structure glides more evenly, requiring less pushing from you, and these types of strollers also have a shock-absorbing suspension system (not unlike a car).
Ultimately, if you're going to be running often on uneven surfaces, a jogging stroller is likely a good bet – both for your jogging experience and for the safety and comfort of your child.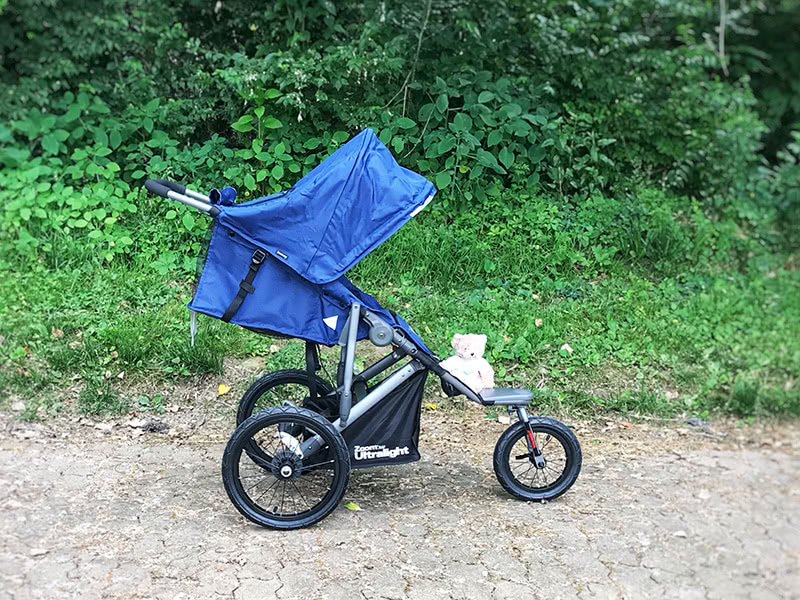 Putting It All Together
I was pleasantly surprised to discover that no additional tools are required to assemble the Zoom 360 Ultralight. Joovy has even included a slim, extremely portable tire pump with the stroller so you never have to worry about a flat while on the road. Nice touch!
The Zoom 360 Ultralight is easy to set up, thanks to a short and simple instructions manual. It only took me five minutes to get it done. All I had to do was unlock the stroller, spin the wheels on for the first time, and I was ready to go.
I immediately felt, as I carried the Zoom 360 Ultralight down the stairs of my front stoop, just how light it is. This is not a small stroller, and it's almost strange how little it weighs. Later, when I began to run around with it, I understood that its lack of weight is a very good thing.
Although the Zoom 360 Ultralight is not geared for very young (0-3 month) infants as sold, this stroller is compatible with a wide variety of car seats across many brands, including Britax, Chicco, Graco, and Maxi-Cosi. With use of a newborn carseat, this jogging stroller can be used for infants on up!
Lightweight, with handy features
Most stroller brands nowadays have at least one lightweight jogging stroller in their collection. However, you're often sacrificing useful features to make that weight loss happen.
Not so with the Zoom 360 Ultralight! This jogging stroller has a fully extendable and collapsible canopy, a reclining seat for your child, a significant amount of storage space, a sturdy frame, and enough safety restraints to give you peace of mind no matter where you take this stroller.
The sturdy frame itself is interesting to look at: Its joints are firmly welded together, and the metal is strong but light. I found out later that Joovy ensures that the material for the Ultralight's frame is crafted from aircraft-grade aluminum. I quickly decided that if it is good enough for an airplane, it's good enough for our jogging stroller!
Another convenient aspect of the Joovy Zoom 360 Ultralight is the compact shape and size to which it can fold. It would easily stack among suitcases in a car, bus, or other transit option, making this a good choice for a travel stroller. If you're looking for a truly 'ultra-light' strolling option for an active lifestyle with minimal accessories, the Zoom 360 Ultralight is worth looking into.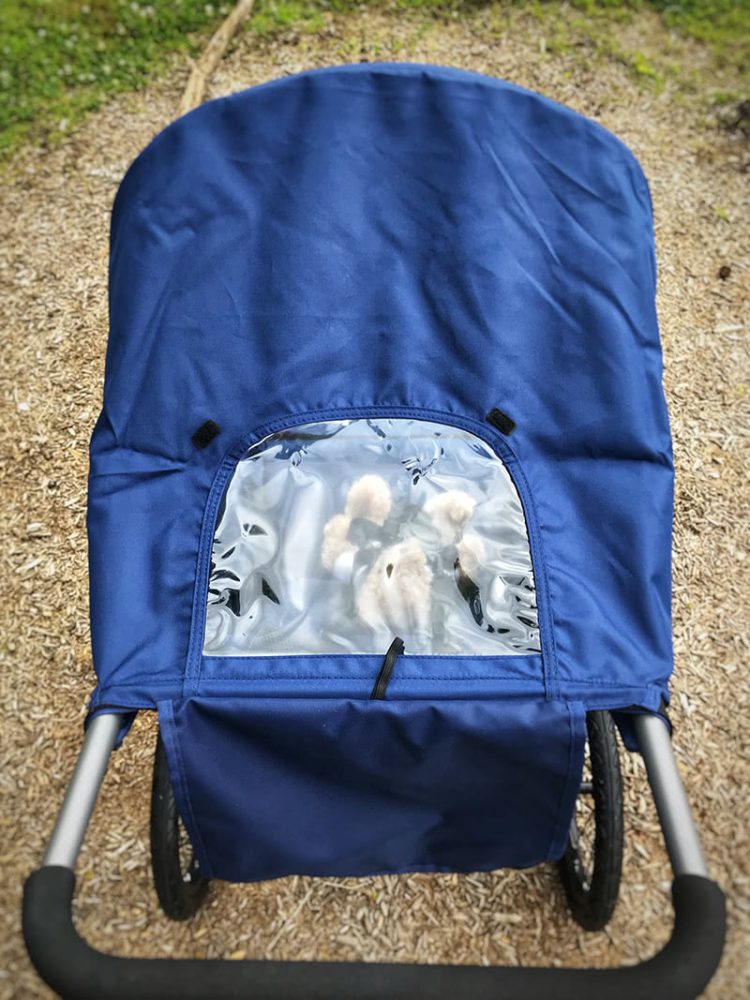 Initial Field Test
Perhaps because of its buoyant, freshly-filled tires, strolling the Zoom 360 Ultralight down the street is a little bouncier than, perhaps, would normally be desired; especially over uneven parts of the sidewalk. However, despite this, the stroller feels very secure and supported at every step. I found through later tests that this bounciness goes away when a heavier child is using the stroller, so this may only be an issue for three-month-old infants. Because of this, if you're using the Zoom 360 Ultralight with a car seat for a newborn child, it's a good idea to add a little extra weight in the storage space to help stabilize your child's ride.
The front wheel can be allowed to swivel smoothly and freely (hence the Zoom 360's name!), or it can be locked in place for simpler navigation. I found that locking the front wheel made sidewalk strolling easier, while the free-swivel came very much in handy on trails and rougher ground.
I also tested the stroller by walking it for a short distance prior to blowing up the tires. I did this just to see how well it performs if you're out and about, experience a flat, and don't have the included tire pump with you. Although the experience wasn't quite as light as it was later with full tires, this stroller does seem to run okay with a flat. It's not an optimal situation, but it's good to know that I won't be stranded anywhere in a worst case scenario.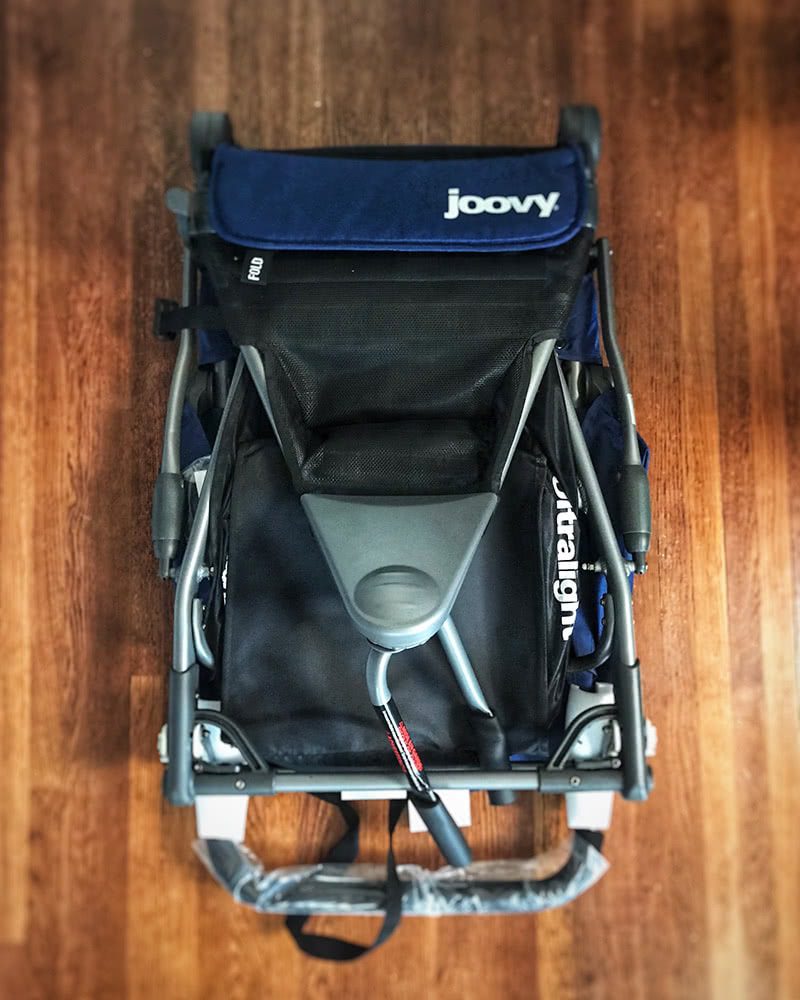 Baby Safety and Comfort
The Zoom 360 Ultralight features a 5 part safety harness to keep your baby snuggled securely while strolling. The seat reclines fully, so you are able to accommodate both sleeping and alert infants with ease. The back of the seat is higher than many others we've seen, at 18 inches (or almost half a meter). This means that it's able to accommodate quickly growing children for quite a while, until they reach 75 pounds (34 kg).
Because this stroller purports to be completely waterproof, I simulated a rainstorm by pouring water over the canopy. The seat did not get wet; the translucent window in the top of the canopy as well as the seaming and fabric itself all held up very well. The canopy did a good job in drier times, as well, shielding the infant from the sun easily when fully extended.
While I tested this primarily with our 7 month old daughter, I have heard from others who enjoyed use of the Zoom 360 Ultralight that older children report it being a comfortable seat–especially when fully reclined.
The fabric of the stroller feels utilitarian and durable, but not scratchy or slippery. I've seen softer and more comfortable fabrics on strollers, but the mesh and waterproof canvas comprising the Zoom 360 Ultralight is not uncomfortable. Its fabric is not unlike a hammock or a camping chair. It is free of chemicals, however, so your infant can snooze and snuggle in safety while in this stroller.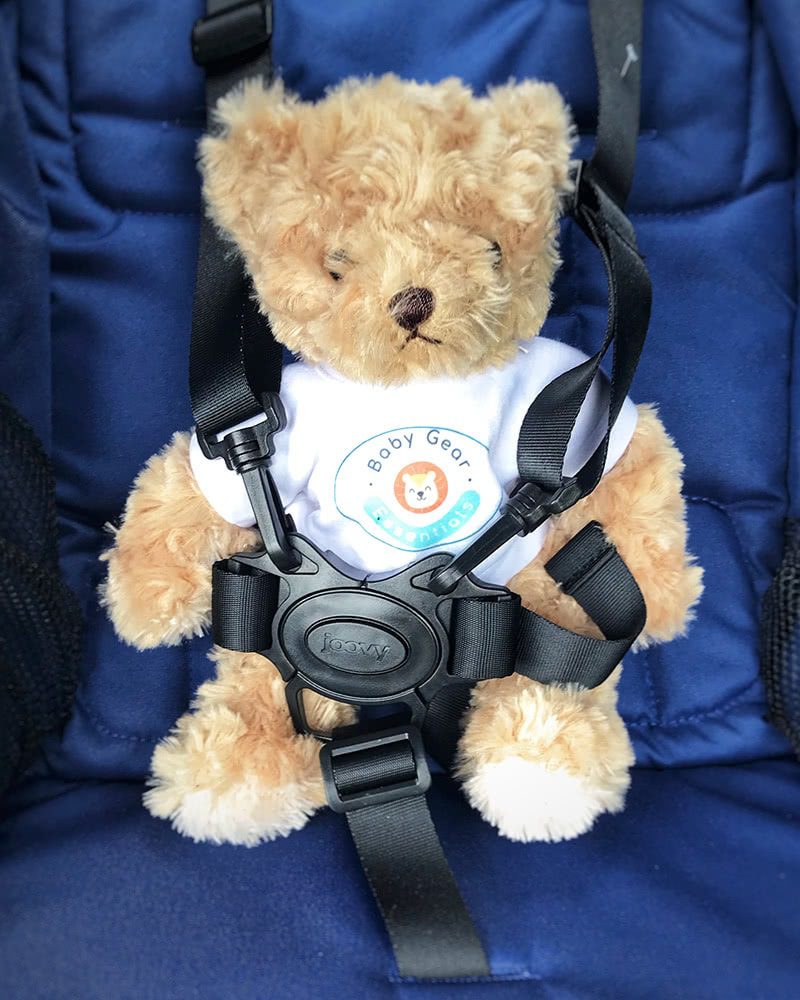 Parent Experience
This stroller also comes with a stretchy nylon cup-holder which fits snugly over the handlebar! It also has a zippered pocket for your keys and your phone, which truly makes jogging with this stroller an easy, unencumbered experience.
Although the main point of a stroller is to ensure your infant is safe, I was pleased to note that the ergonomics of this product worked for me, as well.
The braking system is strong, but it does require a significant amount of force to activate and release it. This is perfect for stability, but can feel like a bit of an impediment for anyone who needs to bend down and release it by hand (for example, when you're wearing sandals instead of closed-toed shoes).
This may not be an issue that many parents experience, but I did note that it is very difficult to open the stroller with one hand from its folded position. This simply means that it will be most convenient for regular use if parents set their baby down before unfolding the stroller with both hands. It wasn't an issue for me, but I did conduct testing with one hand, and it is difficult! If this is the method by which you prefer to utilize a stroller, it may be best to look elsewhere.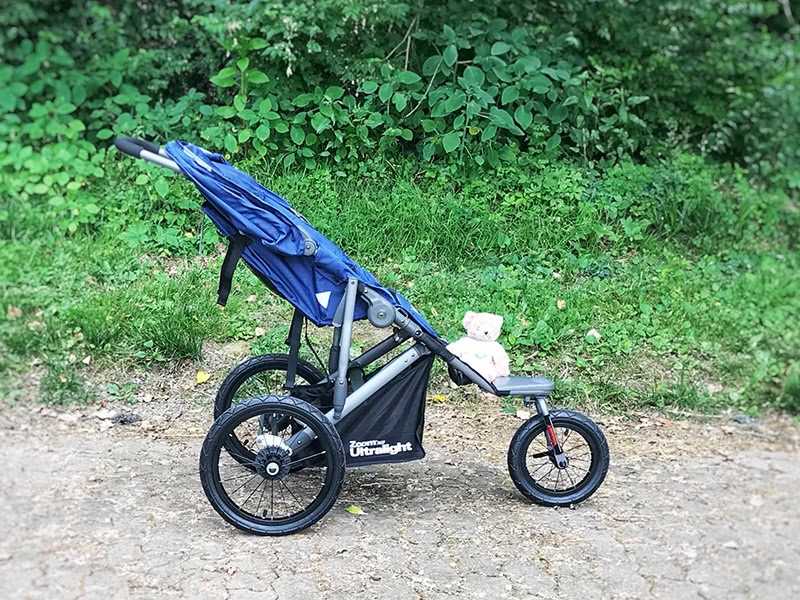 Structural Fit and Feel
As I put together and began to use the stroller, I was intrigued to notice that the frame of the Joovy stroller is highly reminiscent of a bicycle. (Or, perhaps, because it has three wheels, a trike.) Its gray metallic contours are welded and screwed together tight. At no point did it feel wobbly or loose, which gave me peace of mind when taking it over grass or a short trail.
The waterproof canvas that the canopy and seat are made of is not, perhaps, quite so soft or luxe as other brands, but that isn't the point of the Zoom 360 Ultralight. Instead, the focus is on durability and speed. This lightweight fabric can go wherever you go, rain or shine.
The team behind the Zoom 360 Ultralight included a critical feature of the main seat: It is fully detachable and machine washable, making for easy and realistic maintenance. I felt this compared favorably to other strollers I've worked with, which have been difficult to refresh when needed.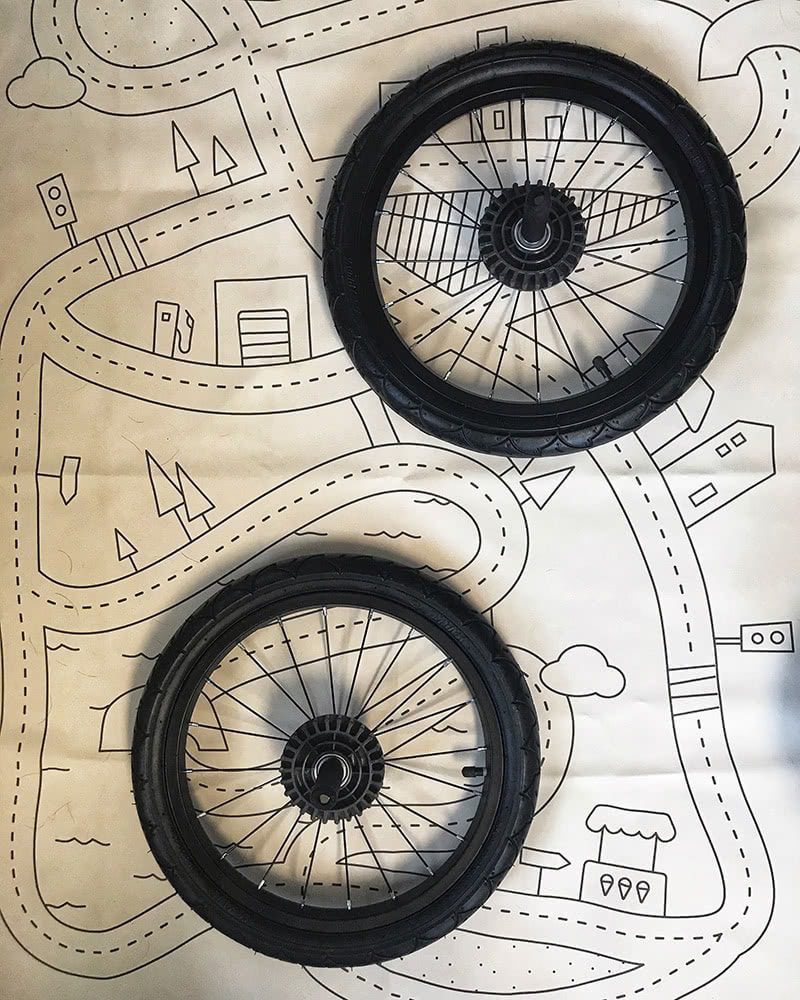 A Running Start
Because this is–as its name suggests–a truly 'ultralight' stroller, I decided to take it for a jog to test the Zoom 360 Ultralight at its full athletic potential. It was here that the stroller shone. We've tried to run with other strollers, and the extra wheels and storage space that we enjoyed with those models quite literally weighed us down. With the Joovy Zoom 360 Ultralight, we felt as nimble on our feet as we ever have with a baby (and stroller) in tow.
From the moment I left our home, it was clear that this is a stroller built specifically for jogging. The safety restraints for our baby feel very secure; at no point did it feel like she was in danger of moving too much. (There's a helpful strap helping keep storage safe, as well.)
For running purposes, the three-wheel design of the stroller in particular is key. It allows for easy maneuverability around obstacles, as well as a more forward-leaning feel. This helps running with a stroller feel more dynamic, as if your center of momentum is naturally just a little bit ahead of you. The stroller's handle hits at elbow height, for good ergonomics during your run, and the brakes are secure enough to make you certain that your baby's ride is safely stopped when you need to take a break. All in all, it made for a significant upgrade to my running experience, as opposed to running with a heavier, more multifunctional stroller.
Joovy Zoom 360 Ultralight: What's in the box?
The Joovy Zoom 360 Ultralight comes with the following pieces and accessories:
Joovy Zoom 360 Ultralight Stroller (frame, canvas+mesh body)
Wheels (3)
Parent Organizer
Tire Pump
Rain Cover
A car seat adapter which works with most major brands is sold separately.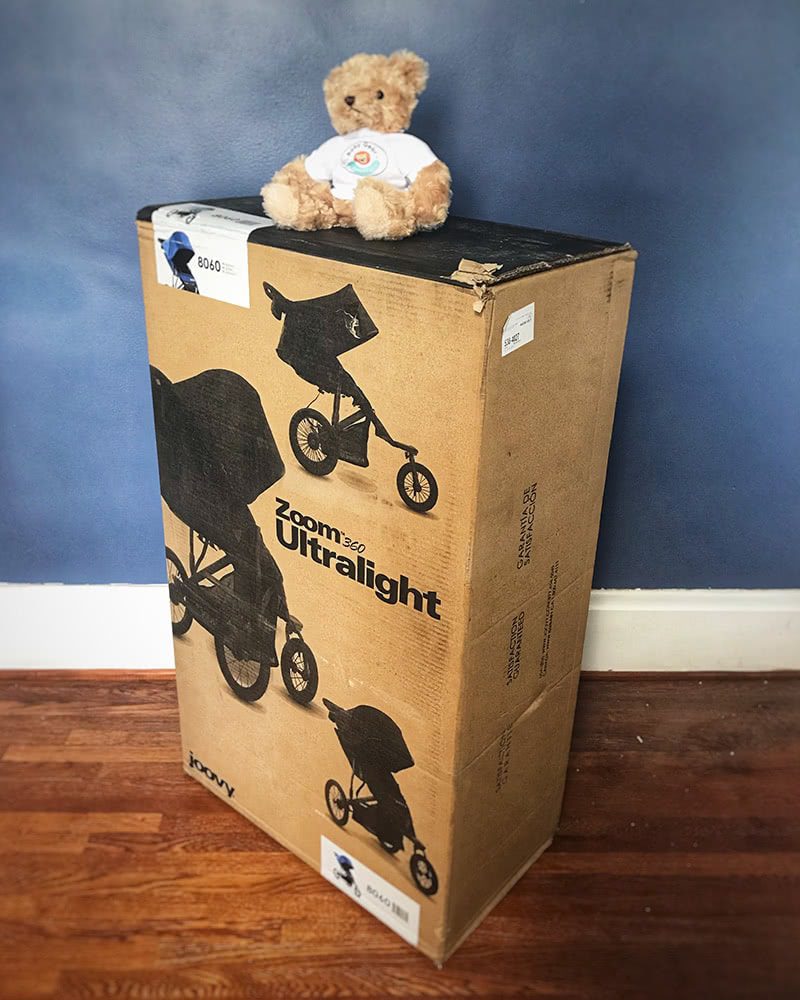 Where to Purchase the Joovy Zoom 360 Ultralight
This stroller is available for purchase on Amazon.
Other strollers from Joovy
If you're not in need of the lightweight frame and three-wheeled dexterity of a jogging stroller, you may be interested in these other offerings from Joovy:
About Joovy
Joovy builds products which support the realities of day-to-day family life. They've been precisely where their customers are, so they create products that families want to use. They're committed to great design and zero ugly fabrics. With a goal of helping families spend time together in a frustration-free manner, Joovy sells strollers, high chairs, toys and more to upgrade your daily routines.
User Manuals and More Information:
The Zoom 360 Ultralight instruction manual and figures booklets can be found on the Joovy website:
Joovy Zoom 360: Frequently Asked Questions
Can you put an infant in a jogging stroller?
Yes, you can put an infant in a jogging stroller, provided you follow all manufacturer instructions for safety. The Joovy Zoom 360 Ultralight is recommended for infants 3+ months of age and up, and newborns if a car seat is used for added stability.
How do you open a Joovy Zoom 360 Ultralight Stroller?
You can open a Joovy Zoom 360 Ultralight Stroller by turning the stroller so the sesat is facing up, with the handle closest to you. Release the locking latch on the right by lifting it. Then, pull up on the handlebar until the stroller is upright and clicks to lock.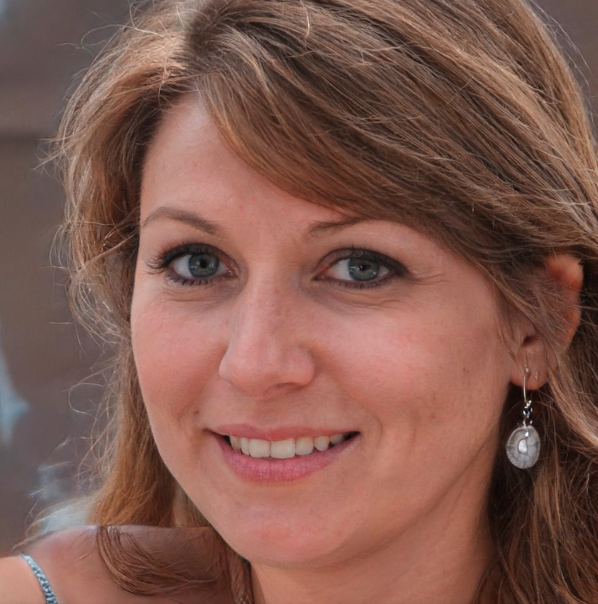 Samantha is a busy mother of four, who loves finding the best products to help in raising children. She graduated from BYU in Marriage and Family Studies. When she isn't writing or testing new products, you can find her playing board games with her kids and teaching them creative strategies.