If you're looking to turn your phone into a baby monitor, you've come to the right place! Baby monitors are a great way to keep an eye on your little one when you can't be in the same room. But why buy extra baby-monitoring equipment when you already have a smartphone? With some simple steps and apps, you can quickly and easily turn your phone into a baby monitor.

Using baby monitor apps is easy – simply download the app from the app store, set it up with your baby's room, connect it to your Wi-Fi network, and then launch the app. You can then use your phone as a baby monitor by streaming audio or video directly from your baby's room. With these baby monitor apps, you can access audio and video feeds from anywhere in the world.

So why wait? Transform your phone into a baby monitor today, and keep an eye on your little one with ease! It's easy, convenient, and best of all – it won't break the bank. Happy baby monitoring!
Guide to Turn Your Tablet or Phone Into a Baby Monitor
Turning your phone into a baby monitor isn't too complicated, in fact here is a 5 minute video outlining how to turn your phone into a baby monitor. Just in case you need a little help, here are the four steps to help you out:
Collect two devices: one to act as the parent unit and one to be the child unit (the unit in the child's room).
Decide how you want to monitor your child: phone call, video conferencing app (ie: Skype, Facetime, Zoom, etc) or baby monitoring app.
Download the app, if applicable.

If utilizing an app, ensure the enhanced security features are on, keeping the video streams of your baby private (read more about hacking here).

Install the child unit on a shelf or tripod and point at the crib.

Utilize the live video/audio feed to help you find the ideal location, providing good audio and visual of the child. Read more about the best place to put the baby monitor.
Ensure the device is at least six feet away and not within the child's reach; read more about radiation here.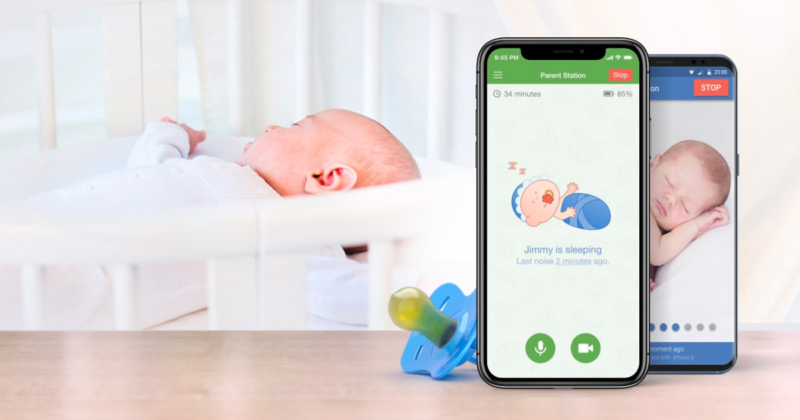 Using Your Phone as a Baby Monitor: Pros and Cons
BUT using an old cell phone as a baby monitor has a few drawbacks, let's look at the pros and cons to make sure that it's the best solution for you.
Pros of using a phone as a baby monitor:
It's inexpensive. Most people have at least one unused smartphone in their home with a decent camera. All it takes to convert it into a baby monitor is a good monitoring app. Most of the apps in our top 10 will charge you a one-time payment or a small monthly subscription fee.
It's convenient, at first. No need to look for the best baby monitor on the market. You just need to convert an old phone and you're ready to go.
You can see your baby from anywhere. Because it will be using your WiFi connection, you can check on your baby from anywhere with an internet connection.
Cons of using a phone as a baby monitor:
No night vision. A phone camera doesn't have proper night vision. Night vision is probably the single most helpful feature in a modern baby monitor. What good does a camera do if it can't see your baby in the dark?
Missing essential features. Dedicated baby monitors now come with a range of useful features, such as room temperature, lullabies, movement detector and heartbeat tracking. None of that will be possible with just a phone.
Risk of hacking. The downside of using a phone is a serious risk of hacking. An old phone could be an easy target for a hacker wanting to see what's happening in your home. Read our article on Can baby monitors be hacked? to learn more.
As a result, we recommend that you start with a phone as a baby monitor if you want to test video monitoring before buying a dedicated monitor. A baby monitor app on your phone is also a great addition to an existing baby monitor if you want to cover more angles in your baby's bedroom, or for traveling when you're not at home.

But because of their limitations, even with the best baby monitor app on your phone that may not be enough. You should check our comparison of the best baby monitors available today to find the one that's right for you once you're ready to upgrade to a dedicated video monitor.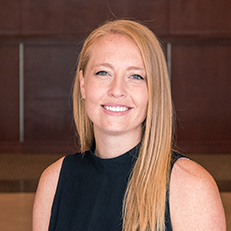 Megan is a wife and mother of three, as well as an experienced foster mother. She loves building and testing new products, and helping identify what works best for readers and clients. She has her degree in Computer Software Engineering and has been a Product Lead with over 8 years of experience designing, building, testing, and selling products to companies ranging from sole proprietors to the largest retailers in America!