A dependable stroller which offers high value for a low cost.
Our verdict on the Kolcraft Cloud Plus Stroller
A search for an inexpensive stroller that still serves your family safely and durably can be a real challenge. When many stroller manufacturers design their affordable stroller offering, they do so by taking out some safety features. Other convenient features geared to optimize your experience are usually cut, as well.
When you need a stroller that's affordable, you still need it to work. You still need to enjoy using it. Your baby still needs to feel supported, safe, and comfortable!
In addition, you need the stroller to last. Significant savings up-front only help long-term if you don't have to keep buying stroller after stroller.
You also need this stroller to work well for everyday, all-terrain, and travel. (Again, if you need to buy three strollers, it's not particularly budget-friendly!) Fortunately, the Kolcraft Cloud Plus comes to the rescue. This easy-to-stow stroller is great for everyday use. It's also lightweight and slim – perfect for car and plane travel.
That's a lot of 'needs' to ask a budget stroller to fulfill. But this affordable stroller is durable and safe – and comes with even more features than I've seen with strollers from luxury brands.
If you're looking for something more high-end, check out the Baby Jogger City Select – a good mix of upgraded details with practical styling. Alternatively, our favorite stroller for a fantastic everyday strolling experience is the Summer 3DLite Convenience, which is lightweight with well-balanced features.
However, we still can't believe all the features we're seeing in the Kolcraft Cloud Plus, especially for its very affordable price.
Read on to learn what we learned in our in-depth review of the Kolcraft Cloud Plus!
Our Rating: 8.9/10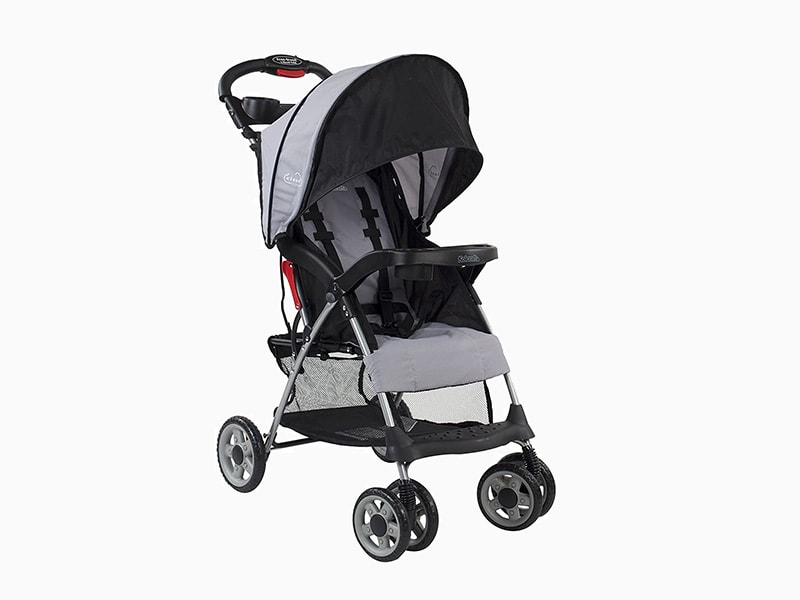 Summary
We like:
The fact that this stroller comes with highly-durable all-terrain wheels.
It's extremely durable – seems like it's made to last.
It's very affordable.
The all-wheel suspension makes for a smooth ride.
A storage basket accessible from the front and back makes toting around your things easy.
It includes cup holders and a removable kid's tray.
We don't like:
Conversely, the fact that the storage basket opens in the front makes it easy for small items to fall out.
The cup holders are shallow.
The child's tray can be hard to remove.
The fabric is lower quality than some of this stroller's competitors.
Where to buy: Check price on Amazon
Alternatives:
In need of a practical travel system? If so, check out our Chicco Bravo Trio review. This system consists of a car seat and a slim stroller which are safe and good-looking. Since you don't have to buy another car seat, this is a great deal for new or growing families.
For a more premium stroller with a luxurious feel, head to our UPPAbaby Cruz V2 review. This stroller has full-grain leather accents to the ultra-absorbent suspension, the Cruz V2 feels like a gorgeous upgrade for your everyday stroll.
Looking for a jogging stroller? Click over to our Joovy Zoom 360 Ultralight review. This stroller offers waterproof support, a durable frame, and enough features that this jogging accessory can support daily life, as well.
Specifications
Stroller weight: 11.8 lbs (5.35 kg)
Assembled dimensions: 17.6 x 29.9 x 41.7 in (0.44 x 0.75 x 1.05 m)
Folded dimensions: 18 x 12 x 34 in (0.45 x 0.3 x 0.86 m)
Maximum weight: 50 lbs (22.6 kg)
Seat width: 12.25 in (0.31 m)
Floor to seat distance: 14.5 in (0.36 m)
Features
| | |
| --- | --- |
| Washable insert | No |
| Tray | Yes |
| Front and forward facing configuration | Yes |
| Peekaboo screen | Yes |
| Detachable carrier | No |
| More than one kid | No |
| Waterproof canopy | Yes |
| Sun protection canopy | Yes |
A High Quality Option for a Very Accessible Price
It'd be easy to dismiss the Kolcraft Cloud Plus out-of-hand based on its price. After all, many of us are used to poor products advertised at bottom-dollar costs. However, when going through the many features offered by this stroller, I began to believe it was worth a solid trial.
Putting It All Together
Although the Kolcraft Cloud Plus did not arrive fully-assembled, it only took about five minutes to attach the wheels and unfold it for the first time. The included instructions were very clear, and the booklet included illustrations which made the job easy.
You don't need any extra tools to assemble this stroller, which is definitely a plus.
I did note that the fabric seems a little bit flimsy and scratchy. However, it's been holding up over time. Softness is perhaps a trade-off for durability.
Full of Intuitive and Functional Features
For a budget stroller, I wasn't expecting the Kolcraft Cloud Plus to have extra or convenient features. However, I was pleasantly surprised to find that it has more features than many of the luxury models I've seen. For premium features though, check our UPPAbaby Cruz V2 review if your budget allows a little splurge.
For example, this stroller comes with a removable baby tray that has a slot for a juice box. It has all-terrain wheels, which enables this stroller to go off-sidewalk from time to time. This stroller even has a peekaboo window! That's a feature which seems required in higher-end strollers, but is often skipped in lower-cost models.
Ultimately, it seems the Kolcraft team did not cut corners when producing this budgetary stroller. It's accessible, affordable, and seems geared to support both you and your child.
Initial Field Test
This budget stroller is extremely lightweight. It's actually significantly lighter than many children, including my daughter. This made for effortless ease of use. I can throw it in my car or stash it in my home without even thinking twice.
The wheels are very stable, but because of the dual-wheel design, it was initially a bit hard to make sharp turns. This got easier after I'd pushed it around for a while.
I went on a quick shopping trip and was able to place a few bags in the storage bin, which is highly convenient. The safety harness was easy to clip in, and my daughter slept through most of the ride (one of the highest marks of praise in my book!).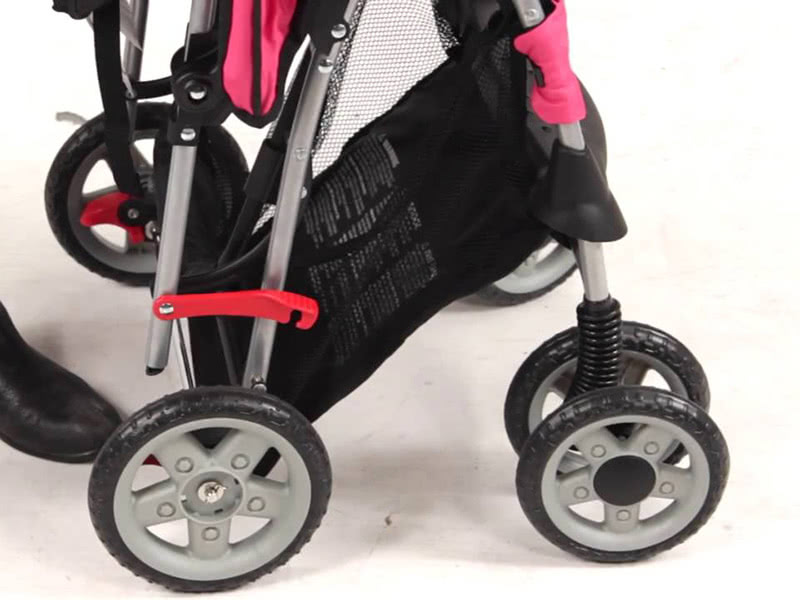 Baby Safety and Comfort
I enjoyed that this stroller comes with a few baby-entertainment tricks in mind. Included with the stroller is a baby tray with a toy, cup, or juice box holder. Additionally, this tray can be taken out easily and washed in your sink.
The adjustable 5-point harness is easy to use. It's also adjustable, so this stroller can grow with your child. You'll be able to use the Kolcraft stroller from three months till toddlerhood.
My seven-month-old daughter loved it and fit very well in the seat. It's good to know that that will still be the case in the months to come – or until she is over 50 pounds!
The seat reclines easily; you control this feature with a toggle in the back of the seat.
The canopy is extra-large (so thoughtful!). Other similarly-priced strollers often don't offer enough sun coverage, at least not for early in the morning or late afternoon. The canopy on the Kolcraft Cloud Plus itself should work for most walks. If the sun's at an especially odd angle, however, the Kolcraft team has included an extendable sun cover you can pull down to protect your child.
Finally, with the Kolcraft Cloud Plus you do have two wheels in each front position. This does seem to make the ride smoother. However, it can make initial maneuverability tricky – it got better with practice.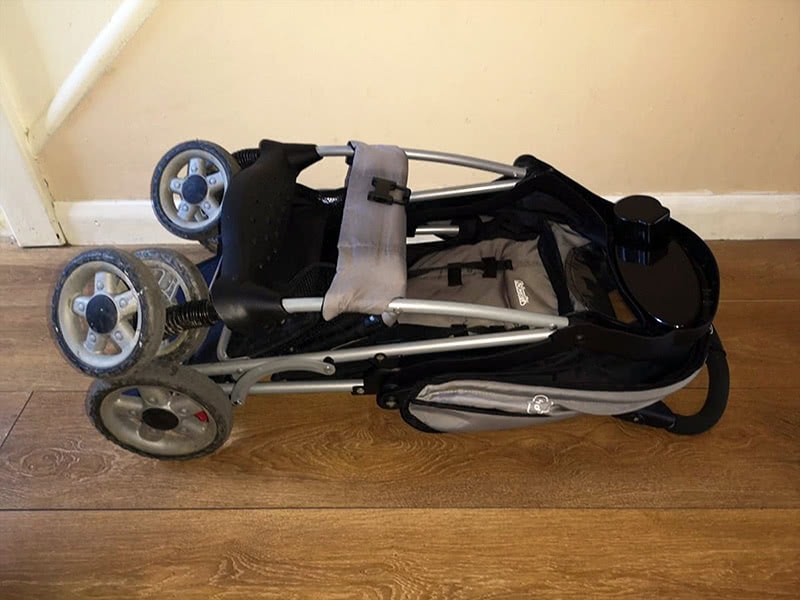 Parent Experience
The Kolcraft Cloud Plus features a tray for your child–and a tray for you. You can keep your keys and phone in front of you, and you get not one but two cup holders.
(In my experience, if there's only one cupholder, it generally gets prioritized for a toddler sippy cup. I appreciated the inclusion of two – making my chance to store a beverage for me at handy distance much more likely!)
A one-handed compact fold makes storage of the Kolcraft Cloud Plus easy. It stands when folded, which helps with portability. This stroller can store literally anywhere.
I was initially worried about the longevity and durability of the Kolcraft Cloud Plus after seeing the low price tag. After all, it doesn't really present savings if you have to buy a new one every year! However, it seems the Kolcraft team geared this stroller to perform well – and to last.
The included wheels are specifically all-terrain. As opposed to many other strollers I've seen in this price category, this stroller can glide easily over grass, gravel, and brick. I tried taking it on a trail, and it did get stuck a few times; but this isn't a jogging stroller, and that didn't surprise me.
Its suspension system did allow for a smooth ride for my child, who (at least once) completely slept through one of our experimental treks over uneven terrain.
Altogether, it seemed that this stroller aims to serve the parent as well as the child. This is evident from its roomy storage, padded handles, and convenient parent organizer tray.
You do need to press two pedals to set the brakes, which was less user-friendly than others I've seen. (And the pedal wasn't quite as sandal-friendly if that's a feature you're looking for).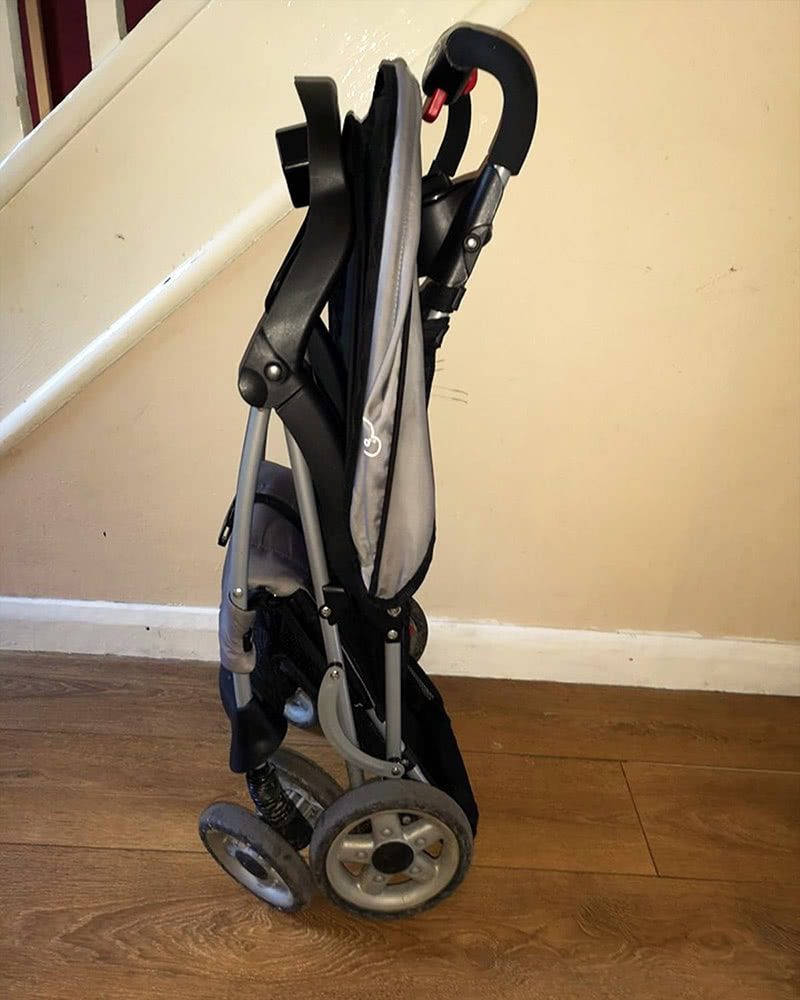 Kolcraft Cloud Plus – What's in the box?
The Kolcraft Cloud Plus comes with the following pieces and accessories:
Kolcraft Cloud Plus Stroller
Wheels
Baby tray (removable)
Where to Purchase the Kolcraft Cloud Plus
This stroller is available for purchase on Amazon.
Other strollers from Kolcraft
About Kolcraft
As a third-generation, family-owned company, Kolcraft knows a thing or two about how to support young families! Since 1946, Kolcraft has distributed top-tier baby gear products, including safe and convenient strollers. Their aims? To keep children safe – and their parents happy.
User Manuals and More Information
The Kolcraft Cloud Plus instruction manual and figures booklets can be found on the Kolcraft website:
Kolcraft Cloud Plus: Frequently Asked Questions
Does Kolcraft Cloud umbrella stroller recline?
The Kolcraft Cloud umbrella stroller does recline, thanks to an easy cinch on the back. It can lay flat or help your child sit up straight with ease.
How do you assemble a Kolcraft Cloud Plus stroller?
You can assemble a Kolcraft Cloud Plus stroller by attaching the included wheels. The included instructional manual has pictures, and you don't need any extra tools.
What is the weight limit for a Kolcraft Cloud Plus stroller?
The weight limit for a Kolcraft Cloud Plus stroller is 50 lbs, or 22.6 kg. Because of this, you can expect to use this stroller through toddlerhood!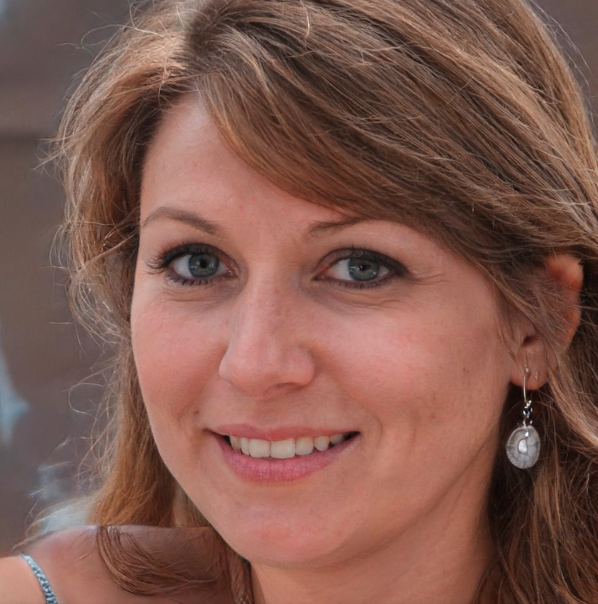 Samantha is a busy mother of four, who loves finding the best products to help in raising children. She graduated from BYU in Marriage and Family Studies. When she isn't writing or testing new products, you can find her playing board games with her kids and teaching them creative strategies.