A convenient and chic travel system supporting your growing, on-the-go family.
Our verdict on the Chicco Bravo Trio Stroller
The Chicco Bravo Trio Travel system consists of a well-designed car seat and a slim stroller. They're safe, they look good, and they work well together. Combined, this package deal costs slightly more than other mid-range strollers in our ranking. However, since you don't have to buy another car seat, is the cost justified?
Additionally, this is a stroller which claims to be able to support your baby from day one through toddlerhood. Is it possible to make one purchase – and that's it – for your baby's travel needs? Ever?
Chicco is an Italian brand that seeks to prioritize style along with performance. To that end, I did pay attention to the sophisticated lines exhibited in the Bravo Trio. It's certainly an aesthetically pleasing stroller. I particularly like the rounded lines of the canopy on both the car seat and the stroller; and the fashion fabrics in subtle patterns and gorgeous colorways definitely don't hurt!
Beyond mere looks, however, the Chicco team wants to ensure that every family has the basic tools they need for everyday life. Because of this, they've equipped the Bravo Trio with large sun shades, a parent organizer (with two deep cup holders!), an adjustable harness, and more.
If you're not in the market for an entire travel system, check out the Kolcraft Cloud Plus – a budget-friendly stroller with lots of great features. For a stroller with a more premium feel, our favorite is the UPPAbaby Cruz V2, which has thoughtfully designed upgraded accents.
Read on for our in-depth review of the Chicco Bravo Trio!
Our rating: 8.8/10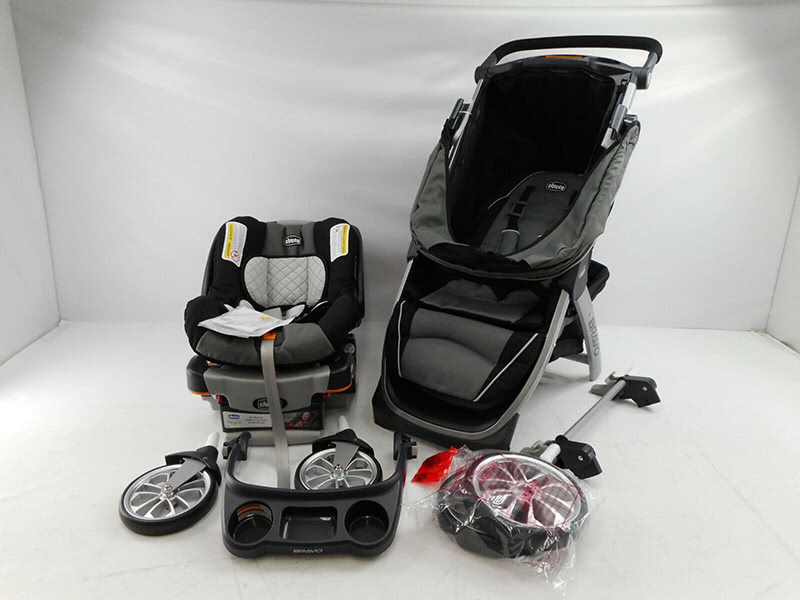 Summary
We like:
You can use this system from day one through toddlerhood.
With this bundle, you reduce the purchases you'll have to make.
The infant car seat doubles as a portable carrier.
Switching between the toddler and the car seat is easy (just a click).
The adjustable handlebar.
The large amount of storage.
The parent organizer.
One-hand foldability.
We don't like:
Does not offer one-handed pushing.
Wheels are not all-terrain.
Seat is not reversible.
Where to buy: Check price on Amazon
Alternatives:
Looking for a jogging stroller? Click over to our Joovy Zoom 360 Ultralight review. This stroller offers waterproof support, a durable frame, and enough features that this jogging accessory can support daily life, as well.
For a more premium stroller with a luxurious feel, head to our UPPAbaby Cruz V2 review. This stroller has full-grain leather accents to the ultra-absorbent suspension, the Cruz V2 feels like a gorgeous upgrade for your everyday stroll.
In the market for an even lighter stroller? Read our Graco NimbleLite review! The NimbleLite offers click-in compatibility for all Graco car seats. In fact, it can transform your Graco car seat into a bonafide travel system: portable, versatile, and full of helpful features.
Specifications
Assembled Dimensions: 35.5 x 21.8 x 43 in
Folded Dimensions: 16 x 21.8 x 28 in
Front Wheel Diameter: 7 in
Rear Wheel Diameter: 9 in
Assembled Weight: 23 lbs
Features
| | |
| --- | --- |
| Washable insert | Yes |
| Tray | Yes |
| Front and forward facing configuration | No |
| Peekaboo screen | Yes |
| Detachable carrier | Yes |
| More than one kid | No |
| Waterproof canopy | Yes |
| Sun protection canopy | Yes |
Our hands-on review of the Chicco Bravo Trio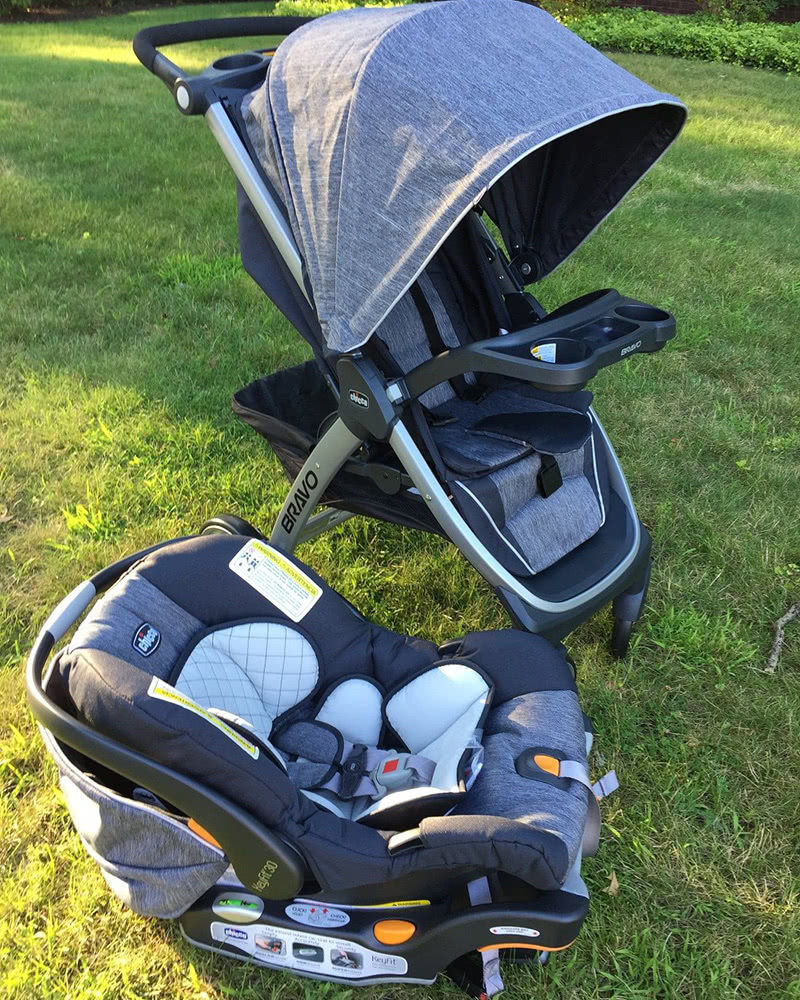 A Travel System that's Ready to Support Your Family
When you're starting to put together the tools and treasures that will help you adjust to your life as a parent, it's easy to get overwhelmed. You might have many things you need to purchase. Because having a new little one to support can get expensive, fast, it's good to know there are some brands that try to lighten the load.
With Chicco's travel system, you may only have to buy one thing. Then, all of your transit needs with your new baby are taken care of! It sounds simple. As I began to go through the Chicco Bravo Trio features, assembly, and test strolls, I was interested to see if it stood up to this promise.
Putting It All Together
I was excited to open this box! Inside was everything promised in the instructional booklet: A frame, wheels, an axle, and several small pieces of hardware. While it didn't come pre-assembled, as some other models do, this stroller only took about nine minutes to put together. I didn't need any additional tools in order to do so.
After it was put together, I took a moment to note the materials and the weight. The wheels are plastic, foam-filled, and smooth. There is suspension on all four wheels, which gives this stroller the same gliding feeling as high-end strollers.
The Chicco Bravo Trio only weighs about 23 pounds, and folds easily. I especially like the fact that when this stroller folds, the wheels automatically turn inside – creating an even more streamlined silhouette.
The frame is strong, yet lightweight. The fabric is soft but durable. Overall, before I even took it on its first test stroll, I got the impression that this stroller seems made to last for a very long time.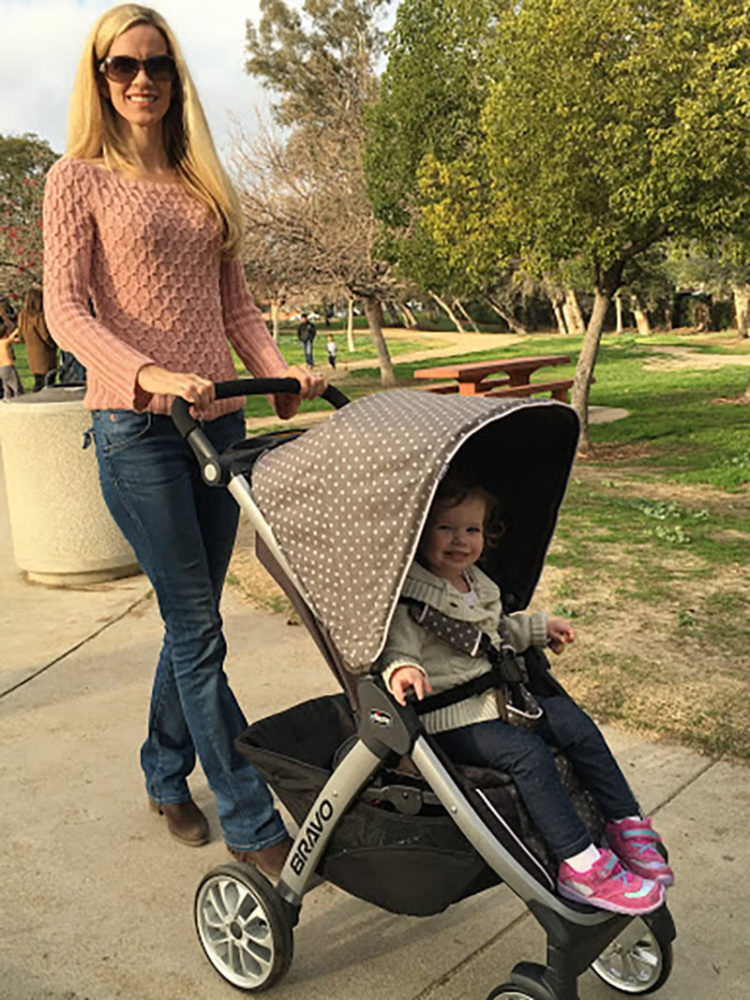 Full of Intuitive and Useful Features
The Chicco Bravo Trio system has lots of features which are geared to make new parenthood simple. For example, there's the fact that it does function as a full travel system. With one purchase, you have a carrier, an infant car seat, and an infant-and-toddler-friendly stroller.
The stroller has a one-hand fold, and stands easily to store. The entire frame of the car seat features a lining made of energy-absorbing foam. There's also lots of plush padding to make sure your child is as comfortable as possible.
The stroller also has a rear-lined double-brake system, which ensures that you can take control immediately, if needed. (If you have nightmares about losing your stroller while going downhill, this is a very comforting feature.)
The canopy is adjustable; the seat has red indicators to let you know when it's set up properly; the seat reclines, and the handles also adjust.
Clearly, this stroller is built to give you the control you need to best support your unique baby. With all that this travel system promises, I was very intrigued! And very ready, too, to take the Bravo Trio on its initial test stroll.
Initial Field Test
The all-wheel suspension really does make a difference. This stroller turns instantly. It floats over the ground. Its wheels were a little small and hard; they do seem specifically geared for concrete.
I tried taking them over grass and mulch, and quickly found that these are not all-terrain wheels. While they aren't really made to go over rough terrain, they do well over city sidewalks.
One-handed test strolls didn't go very far: This stroller is slim, but has enough heft that two hands are basically required. However, it's narrow enough that I could fit easily between smaller aisles in my grocery, for example.
The brakes kick in instantly, which I appreciated. When it came time to break down the stroller, it did so easily – just one switch and it collapses in on itself very smoothly.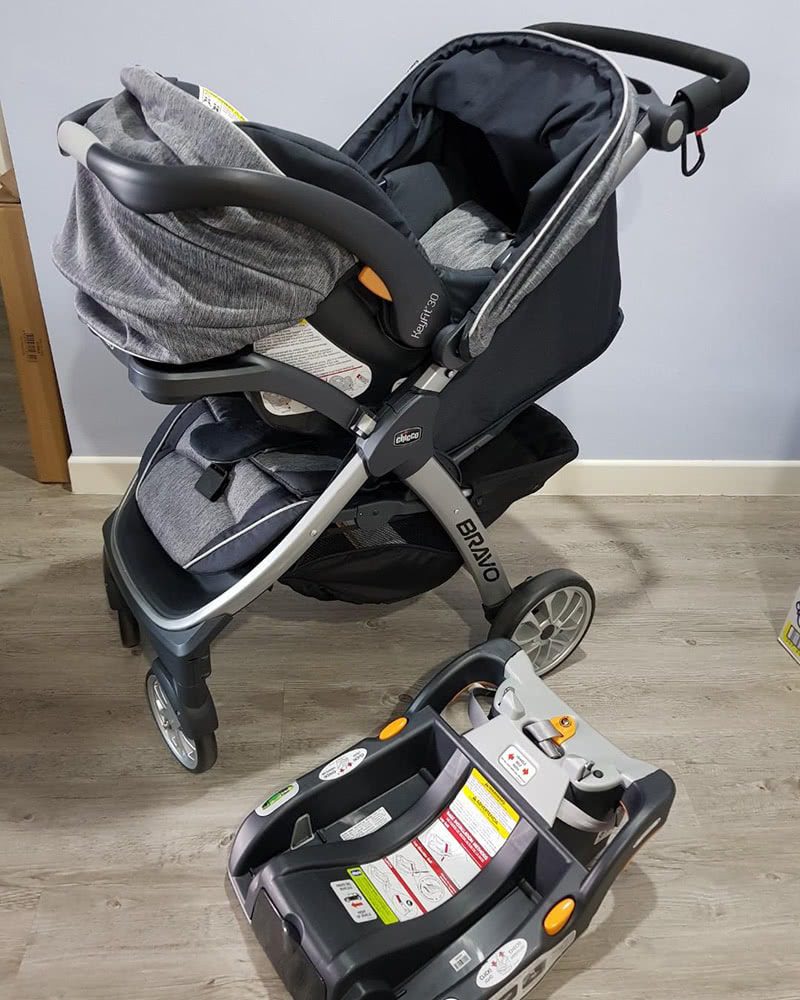 Baby Safety and Comfort
The Bravo Trio claims to support infants from day one onward. If used with the included car seat, the stroller can be used from infancy through toddlerhood.
I like that, if you click the car seat in, you have the option of simply strolling around with the car seat on top of the stroller frame. Or, you can pull the stroller sun shade up over the car seat as well. With the car seat shade and the stroller shade, your child has almost complete sun coverage.
This is perfect for sunny or rainy days! I'm not sure that I've seen any other brand with quite so comprehensive coverage – especially for an infant-friendly seat.
The Chicco KeyFit 30, the car seat, is the overall best car seat of the year based on our tests. The base for the car seat is very easy to install in your car. The seat has a five-point harness as well as an infant insert to ensure your little one is cradled from day one.
The harness has adjustable shoulder heights; you won't have to purchase a new stroller every time your child goes through a growth spurt.
The toddler seat has a three-point recline, which you can control easily from a standing position behind the stroller. (It's just the push of a button – far easier than some of the straps and cinches I've seen with other models.) However, it doesn't lie totally flat – you'll have to use an infant seat for that. Both the seat and leg rests are softly padded.
The canopy is removable and adjustable. It isn't intrinsically waterproof, and it doesn't come imbued with UPF like I've seen in higher-end brands. You'll want to make sure your child is covered, and that they have sunscreen when you go out. (It does come with a mesh peekaboo window, though – nice that you don't have to walk around front to check on your child!)
Parent Experience
Finally, I was interested in checking out the included perks geared toward the parent experience. The Bravo Trio comes with a parent organizer tray and cup holders. (The cup holders are actually deep enough to hold my water bottle steady – I was very grateful for this, as I've seen other cup holders that aren't much more than shallow bowls!)
The infant car seat is only 9.5 pounds, which makes it very easy to use as a carrier as well.
The stroller itself has an adjustable handlebar with three different positions. My husband and I have wildly differing heights, so this is definitely a feature that I find useful! The handlebar is also nicely cushioned, with lots of soft foam: Chicco has obviously thought of the parent's comfort, as well as the child's, and I like that!
There is a brake pedal on either side of the stroller, but you only need to engage one of them to lock the wheels. It's nice to have an option on either side, so I can use whichever is closest.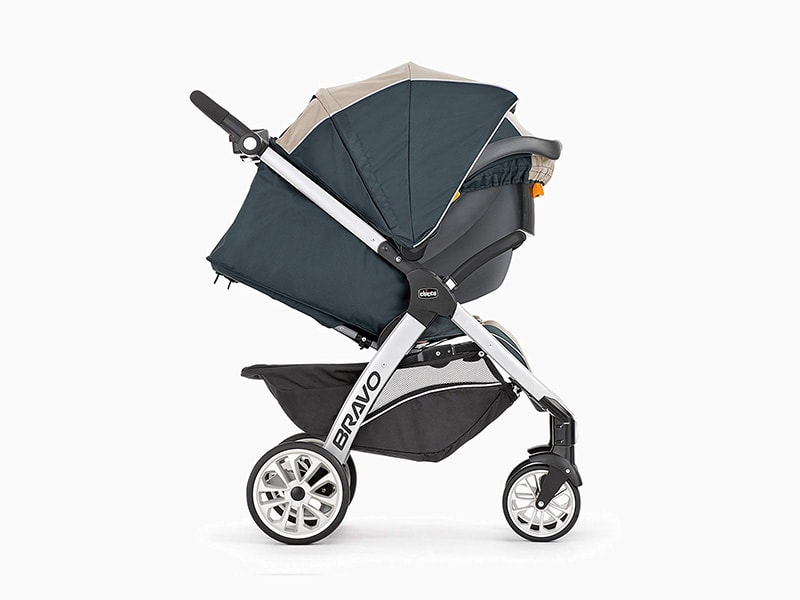 Chicco Bravo Trio – What's in the box?
The Chicco Bravo Trio comes with the following pieces and accessories:
Stroller Frame
Front Wheels
Rear Wheels
Rear Axle
Washers
Pins
Hubcaps
KeyFit Attachment Adapter (to pair the stroller with the car seat, if you have it)
Where to Purchase the Chicco Bravo Trio
This stroller is available for purchase on Amazon.
Other strollers from Chicco
If you're not in need of the accessible versatility of the Chicco Bravo Trio, you may be interested in these other offerings from Chicco:
About Chicco
In 1958, Chicco was founded by an inventor by the name of Pietro Catelli. To help support his family and particularly his infant son, Catelli dedicated himself to inventing easy-to-use solutions for young families. Chicco is now a global brand, but one particularly proud of its Italian heritage. They seek to stay ahead of fashion trends and innovations in comfort, safety, and performance.
User Manuals and More Information
The Chicco Bravo Trio instruction manual and figures booklets can be found on the Chicco website:
Chicco Bravo Trio: Frequently Asked Questions
How do you fold a Chicco Bravo Trio travel system?
You can fold the Chicco Bravo Trio by lifting up the seat cushion to find a fold handle. Just pulling that handle with one hand will cause the stroller collapse in on itself.
How much does the Chicco Bravo Stroller weigh?
The Chicco Bravo Stroller weighs 23 pounds. (The carrier itself is only 9.5 pounds, which makes it very portable!)
Can you wash a Chicco Bravo Stroller?
You can wash a Chicco Bravo Stroller by removing the fabric inserts and washing with a mild detergent in cold water. Air dry – don't use a drying machine!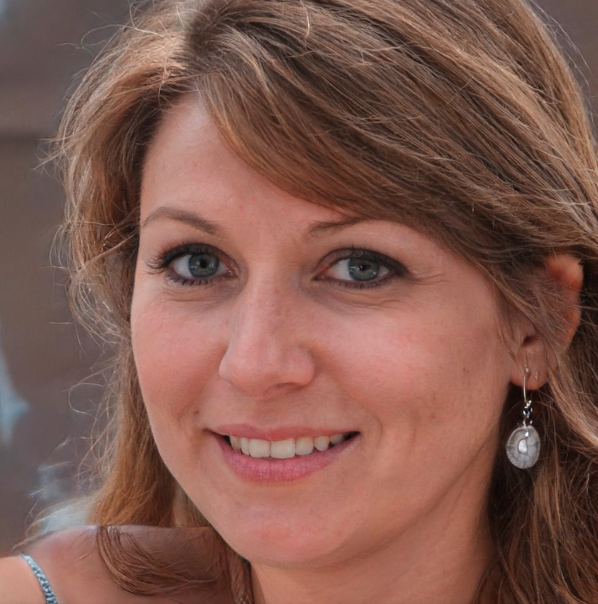 Samantha is a busy mother of four, who loves finding the best products to help in raising children. She graduated from BYU in Marriage and Family Studies. When she isn't writing or testing new products, you can find her playing board games with her kids and teaching them creative strategies.