The UPPAbaby Cruz V2 Stroller is a premium stroller which offers comfort and structure for both you and your baby.
Our verdict on the UPPAbaby Cruz V2 Stroller
Leather accents. Roomy storage. Quilted canopies, sleekly zippered compartments, accessories which click into place intuitively.
The UPPAbaby Cruz V2 brings luxury and premium styling to the stroller market, but a sense of practicality as well. This stroller, an update to the original Cruz stroller, was engineered based on the feedback and input of real mothers.
This dedication to real-life performance shows. If you're looking for a very sturdy stroller that will comfort and cradle your infant, yet support everyday life as a parent with a sense of sophistication, the UPPAbaby Cruz V2 is an excellent choice.
Perhaps that's not quite what you need. If you're instead in the market for an affordable jogging stroller that's incredibly durable, we recommend you check our Joovy Zoom 360 Ultralight review.
Looking for a travel stroller, instead? The Babyzen YOYO2 stroller can be slung over your back and carried on a plane.
However, for everyday performance and a premium feel, the UPPAbaby Cruz V2 is the stroller I most enjoyed using. Read on for more details of our hands-on review of the UPPAbaby Cruz V2!
Our Rating: 9.8/10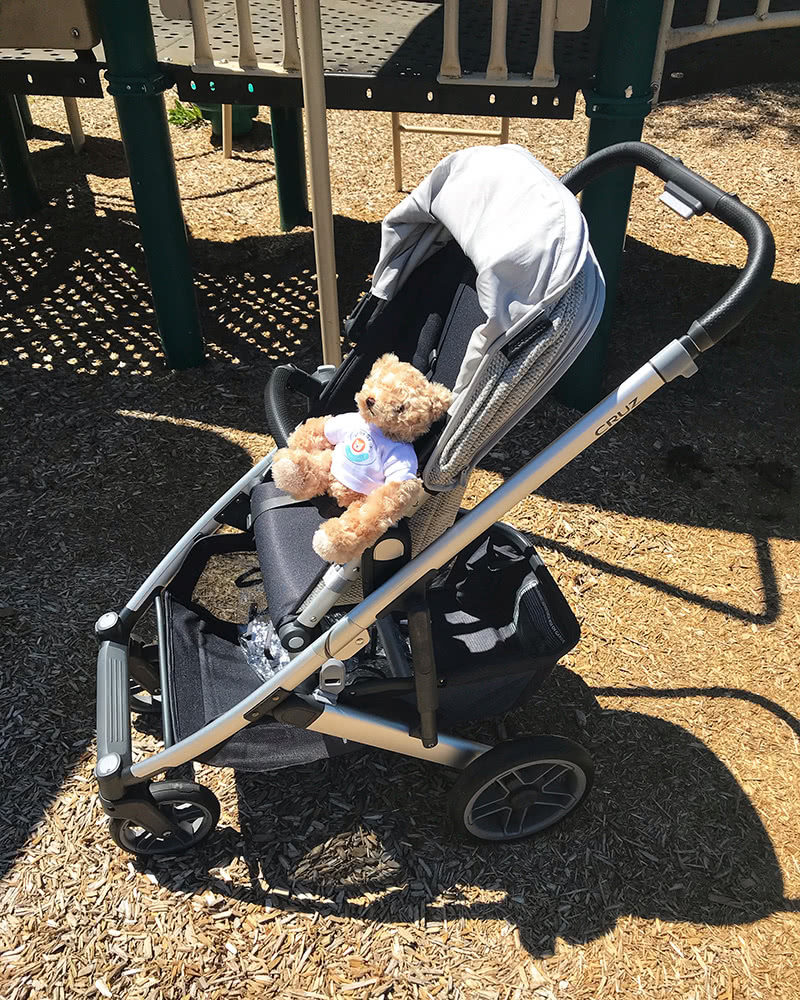 Summary
We like:
The full-grain leather accents.
The subtle visual indicators which provide intuitive instructions.
The roomy storage basket.
The absorbent suspension which gives the Cruz V2 a gliding feeling.
We don't like:
More expensive price.
It does not offer infant support out of the box, you'll need to purchase a bassinet separately.
Where to buy: Check price on Amazon
Alternatives:
If you're looking for a versatile travel stroller which can support your baby from infancy through toddlerhood, check out our Babyzen YOYO2 stroller review.
In need of a practical travel system? If so, check out our Chicco Bravo Trio review. This system consists of a car seat and a slim stroller which are safe and good-looking. Since you don't have to buy another car seat, this is a great deal for new or growing families.
Looking for a jogging stroller? Click over to our Joovy Zoom 360 Ultralight review. This stroller offers waterproof support, a durable frame, and enough features that this jogging accessory can support daily life, as well.
Specifications
Stroller is suitable for infants from 3 months to 50 lbs (22.6 kgs).
Weight of frame+seat: 25.5 lbs (11.5 kgs).
Weight of frame: 19 lbs (8.6 kgs).
Weight of seat: 6.5 lbs (2.94 kgs).
Unfolded dimensions: 37.5 x 22.8 x 40 inches (0.95 x 0.57 x 1.02 m).
Folded dimensions, with seat attached: 16.5 x 22.8 x 33 inches (0.41 x 0.57 x 0.83 m).
Folded dimensions, without seat attached: 12 x 22.8 x 30 inches (0.3 x 0.57 x 0.76 m).
Features
| | |
| --- | --- |
| Washable insert | Yes |
| Tray | No |
| Front and forward facing configuration | Yes |
| Peekaboo screen | Yes |
| Detachable carrier | No |
| More than one kid | No |
| Waterproof canopy | Yes |
| Sun protection canopy | Yes |
A Luxe Upgrade for your Everyday Stroll
This stroller looks, feels, and even sounds luxurious: the soft swishes of the thick quilted fabric, the lustrous sheen of the metal frame, the buttery feel of the leather accents and grips all come together to make this stroller feel subtly like the high-end vehicle version of a stroller, instead of something more akin to a bicycle for infants.
Immediately, I found myself thinking that this was a stroller I wanted to use.
Putting It All Together
Have you ever unboxed an Apple product? If so, you may be familiar with intuitive packing, beautifully designed manuals, and unfolding steps optimized to allow you to experience your new product from its most favorable angle.
Such was my experience when I unpacked the UPPAbaby Cruz V2. The UPPAbaby team ensured that from the first moment, you're fully aware that this is not an ordinary stroller. The stroller unfolds easily; the directions are intuitive and easy to understand.
My favorite part, however, of the assembly process were the tiny, satisfying clicks each of the parts made when they fit together perfectly.
Not much assembly is needed – the wheels need to be clicked on, the bumper bar similarly clicked into place – but simply knowing that the stroller itself let me know when it was assembled correctly gave me peace of mind. Putting the Cruz V2 together only takes about seven minutes in total. No extra tools are required.
After the stroller was put together, I was excited to see just how many features the UPPAbaby team has managed to pack into one relatively lean stroller.
Full of Intuitive and Functional Features
The Cruz V2 comes with a full-size toddler seat which you can turn to face forwards or back. The protective canopy is fully extendable, and it does so with the same soft, satisfying clicks I noticed with the frame to let you know that you're doing it right.
The canopy also has UPF 50+ protection to keep your little one safe, as well as zipped extension sections, mesh panels, and a vented peekaboo window.
I appreciate the fact that the UPPAbaby team incorporated so many one-handed and one-step features. For example, I can control the angle of recline of my daughter's seat with one hand, and the entire stroller collapses in one easy motion. With the help of my husband, I carefully tried folding it down with my baby in one arm, and found that I could easily do so.
The same intentionality that allowed for ease of assembly directs your actions when you want to break down the stroller, turn the seat back to front, unlatch your baby from the seat, unfurl the canopy to its largest extent, or put on the included bug or rain covers.
It all feels natural, which – for me, gifted with skill for neither puzzles nor complicated machinery – is highest praise.
I put together the stroller with reference to the instructions, but since then, the instruction manual has stayed put. Without really knowing how to perform simple motions like braking, taking out the lap bar, and folding the stroller, I could easily do so.
The stroller features subtle design elements which guide you to the correct motion; a red lever here, a stylized arrow there. As a result, this is a stroller which you already feel you know how to use, on a subconscious level, eliminating a tough and awkward learning curve which I've experienced with other, less intuitively designed, models.
Initial Test Drive
When I first wheeled the Cruz V2 down the sidewalk outside my home, I paid careful attention to the way this stroller glides over bumps in the road. The Cruz V2 includes an upgraded all-wheel suspension, which (again, like a very nice car) is geared to shield both baby and caretaker from unpleasant jolts.
This stroller glides over sidewalk bumps like a dream, and feels supported and buoyant. When I took it over a rougher trail, it had a harder time; the front wheels got stuck in rocks and tall grass – but that makes sense; this is not a hiking or jogging stroller. When on mostly flat surfaces, its intended environment, the Cruz V2 swivels, glides, brakes and rolls precisely as you require.
One of my personal favorite features became apparent when I got home from that first outing. I'm accustomed to wrestling with strollers to get them to fold easily, and I've gotten used to the fact that storing our baby's strollers mostly just means being okay with it taking up a large part of our living space.
This stroller is different. The Cruz V2 folds in one simple motion, with another satisfying click to let you know when it's secure. Then, it can stand on its own to be stored vertically, taking up no more room than a large briefcase or backpack.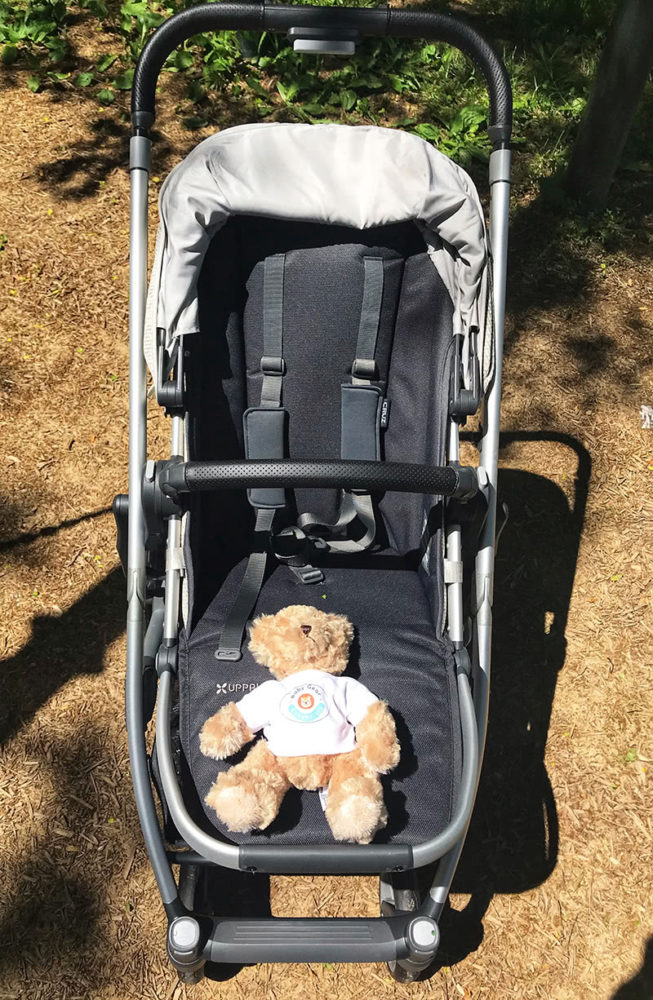 Baby Safety and Comfort
The Cruz V2 out of the box is geared for infants older than three months of age. UPPAbaby does sell a bassinet and Infant SnugSeat separately which can make this stroller a more comprehensive and versatile option for your family.
However, with the V2, UPPAbaby did upgrade the toddler seat with a higher back than its predecessor, along with a deeper, extendable footrest and longer leg rest. This gives you the ability to use it for a few extra months as your child grows.
The Cruz V2 also has a five point, no-rethread harness: You don't have to worry about frustrating, time-taking adjustments every time your infant goes through a growth spurt.
Worried about mosquitoes? If you're going for a longer walk or using the Cruz V2 as an outdoor infant seat during an extended event, you may wish to use the included bug shield – a very fine mesh sheet which attaches around the outside of the toddler sheet.
It's very fine, so you'll want to roll it up securely so it doesn't snag, and it's a bit formless (it resembles a fitted sheet), so the first few times you put it on it can feel odd and baggy. This was the one feature which I found initially awkward. However, after I figured it out, it seemed to work well and provide an extra layer of protection for our daughter.
The canopy can also move up and down–physically closer to your child for comfort, or further up as your baby grows. The Cruz V2 upgraded to 10-inch rear tires, which helps even out the experience, further improving that gliding feel. It is actually difficult to create a jolting motion with the Cruz V2, which speaks well for our daughter's naps during tricky or bumpy walks in this stroller.
Although the Cruz V2 is not specifically waterproof, we did try going for a quick jaunt when it was raining outside. With the canopy extended all the way, the main seat of the stroller is completely protected from water, at least for a short period of time.
This can allow your baby to sleep while you go in and out of stores on an overcast day, but the Cruz V2 by itself isn't a waterproof stroller. Included in the box is a rain guard, which fits like a glove and does work well – but it is an extra step to Velcro the plasticky guard in place, which does take a minute.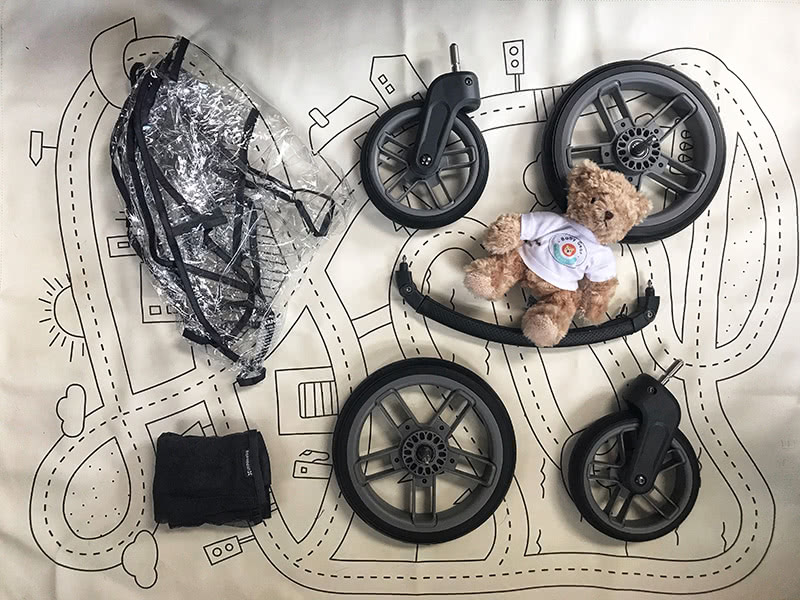 Parent Experience
In my experience, the smooth feel of the titanium frame and the leather accents made me feel like I was dealing with a high-end luxury product–not a utilitarian baby gear product.
The storage bin underneath the toddler seat is quite large, and it is not obstructed by any straps or low-hanging bars, as I've seen with other models. You can easily fit a large coat or a good-sized purse under there with no issues (we did so in our tests to make sure!) I loved that there was a small pocket designed to hold a thermos upright in the right-hand corner–a little touch that made me feel the stroller was supporting my needs as well as my baby's.
Everything about this stroller is adjustable, from the handlebar to the baby harness to the extendable canopy. The full-grain leather accents were certainly a nice touch as well!
I also enjoyed the fact that this canopy has a zippered section, instead of merely having expandable folds – which I've found can often unfold messily and get in the way. With the Cruz V2, you can easily decide to have it only expand to about 60%, or unzip it for maximum sun protection for your child.
The handlebar is sleek and sits comfortably at waist height, but it is very easy to adjust. One click and the bar can telescope up or down, making this stroller easy to adjust for parents of any height.
UPPAbaby Cruz V2 – What's in the box?
The UPPAbaby Cruz V2 comes with the following pieces and accessories:
Frame and four wheels
Toddler seat and bumper bar
Toddler seat bug shield
Toddler seat rain shield
A car seat adapter which works with car seats from Chicco, Maxi-Cosi, Cybex, and Nuna is sold separately.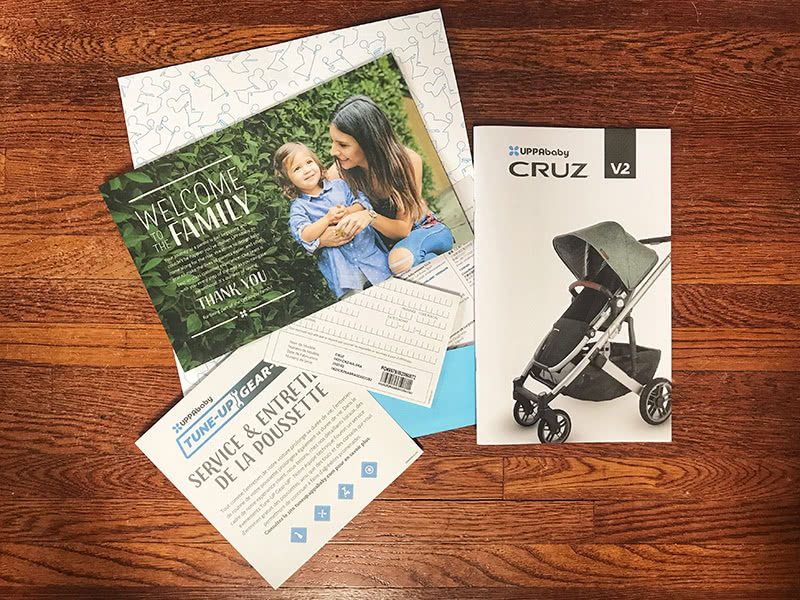 Where to Purchase the UPPAbaby Cruz V2
This stroller is available for purchase on Amazon.
Other strollers from UPPAbaby
If you're not in need of the upscaled detailing of the Cruz V2 you may be interested in these other offerings from UPPAbaby:
The G-Lite Stroller, a lightweight breathable version that's excellent for travel
The Minu Stroller, a solid alternative to the Cruz V2 with a slightly slimmer frame
The G-Link 2 Stroller, a double stroller with independent seats and canopies supporting two children
About UPPAbaby
UPPAbaby provides products which can help ease parents into their new lives by prioritizing intuitive, easy-to-use, beautiful baby products that parents want to use, too. They're committed to making safe strollers, car seats, and accessories, but they also want their products to be savvy and even fun. UPPAbaby also strives to be available as a resource for new parents, to really support new families as they adjust to new life!
User Manuals and More Information
The UPPAbaby Cruz V2 instruction manual and figures booklets can be found on the UPPAbaby website:
UPPAbaby Cruz V2: Frequently Asked Questions
Can you use UPPAbaby Cruz V2 for newborn?
Yes, you can use the UPPAbaby Cruz for newborns. However, you will have to purchase the Bassinet or Infant Snugseat. Doing so will give your infant the support they need in the Cruz V2!
Is UPPAbaby Cruz V2 worth the money?
The UPPAbaby Cruz V2 is worth the money due to the high-quality materials and intuitive build of their products, I've found. If you're looking for a more affordable option, check our review of the Summer 3DLite!
Can UPPAbaby Cruz convert to a double?
No, the UPPAbaby Cruz V2 cannot convert to a double. If you need a stroller which can easily support two children, you may want to look into the Baby Jogger City Select.
Why is UPPAbaby so expensive?
The UPPAbaby is so expensive because it has a high-quality frame, reliable shocks, and luxurious accents which make it comfortable for your child while providing an upscale experience for adults. There are more affordable alternatives, but I enjoyed having a dependable product which was intuitive, beautiful, and comfortable to use!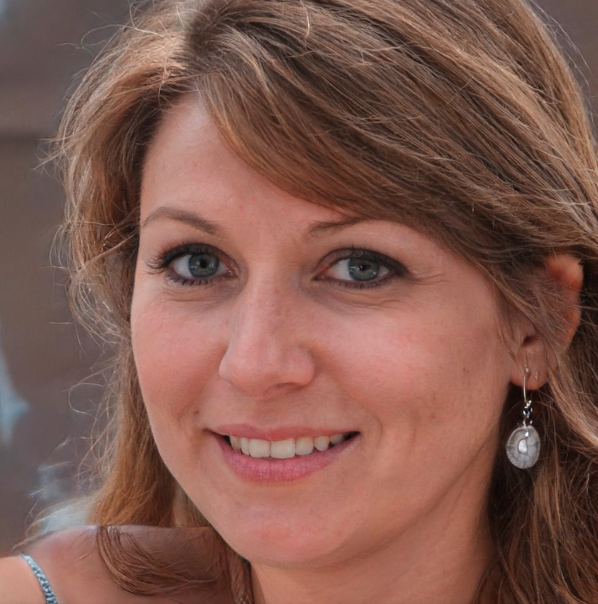 Samantha is a busy mother of four, who loves finding the best products to help in raising children. She graduated from BYU in Marriage and Family Studies. When she isn't writing or testing new products, you can find her playing board games with her kids and teaching them creative strategies.