Our Verdict on the Kodak Cherish C520 Baby Monitor
The Kodak Cherish C520 Baby Monitor was one of the best baby monitors of 2019. Its video quality is excellent and the build quality is solid. But it's the range of options and features that really make the Kodak shine. It's the first monitor that we've tested that lets you chose between radio and WiFi connection, giving you more options to keep an eye on your baby. Plus the camera comes at a great price too.
Warning: we said it before in our review of the Nanit Plus Smart Camera, we're all a bit geeky at Baby Gear Essentials. We are very much aware of our bias towards new gadgets that can help improve our lives. But we also recognize that tech devices aren't for everyone.
The Kodak Cherish C520 can be used as a simple video monitor thanks to an instantaneous radio connection. No set up is required and the camera and monitor will work right out of the box. But you would be missing out on a bunch of valuable features that the camera is capable of by not using the WiFi connection to extend the capabilities of the Kodak Cherish C520.
If you're comfortable with the smart devices and want to discover the best in high-tech baby monitors, keep reading. But if you aren't, I suggest you check our review of the Eufy SpaceView instead. The Eufy is a more straightforward baby monitor with more signal range at a slightly lower price.
With that said, let's dive into our review of the Cherish C520 camera to see if Kodak can bring a fresh new take to baby monitors.
Our Rating: 9.6 / 10
Summary
We like:
The camera can connect with both WiFi and RF, giving you the best of both worlds.
Excellent image quality with high resolution 5" screen.
Can save moments in the cloud or locally with an SD card.
Comes with rechargeable batteries for both the parent unit and the baby camera.
We don't like:
Range when using the radio isn't as strong as some of the radio monitors.
Where to buy it: check price on Amazon
ALTERNATIVES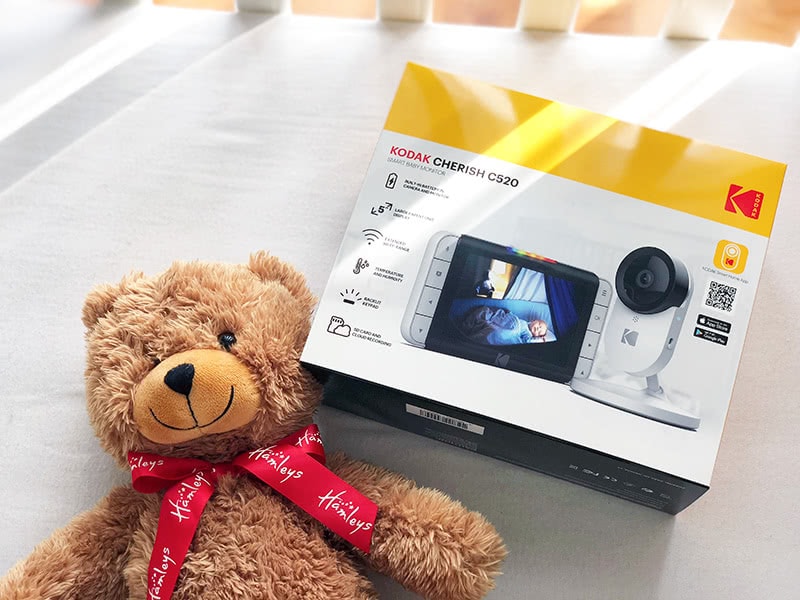 Overview: Kodak Cherish C520 Baby Monitor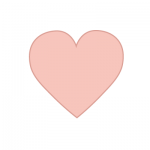 Health & Safety
9/10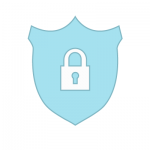 Privacy
9/10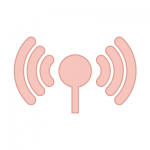 Range
8/10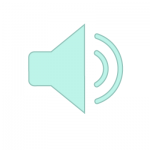 Audio Quality
9/10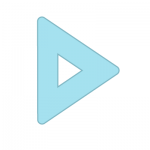 Video Quality
9/10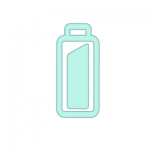 Battery
10/10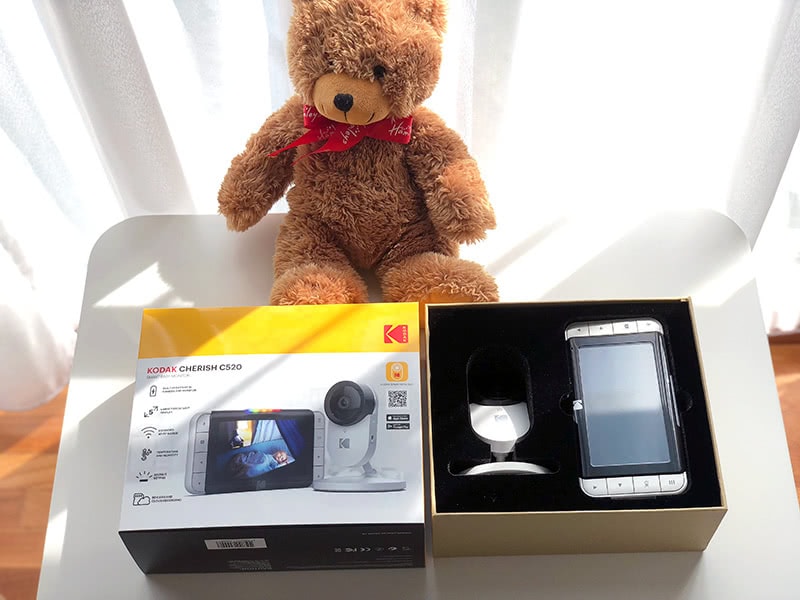 Features: Kodak Cherish C520 Baby Monitor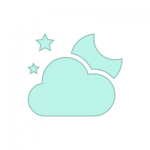 Infrared Night Vision
YES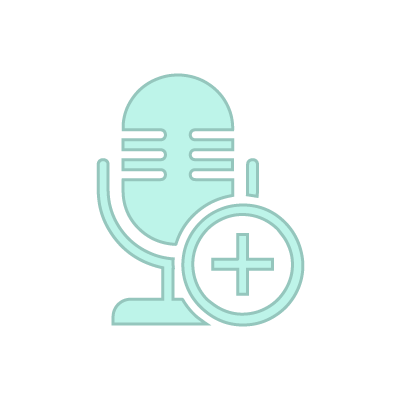 VOX
YES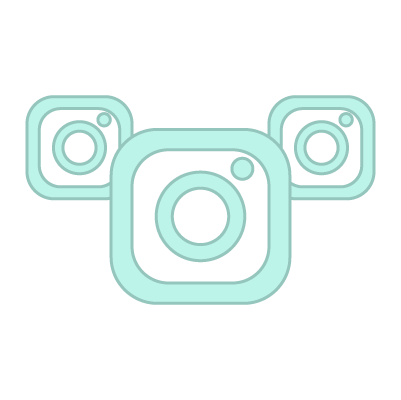 Multiple Camera
YES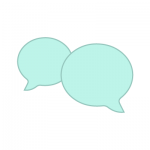 Two-Way Talk
YES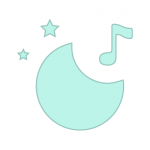 Play Lullabies
YES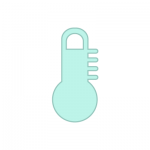 Room Temperature
YES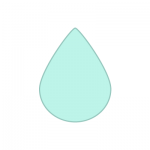 Humidity
YES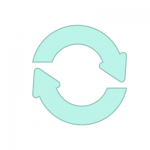 Remote Pan and Tilt
NO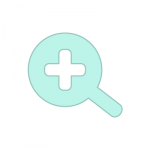 Remote Zoom
YES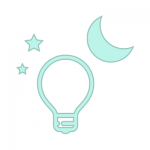 Nightlight
YES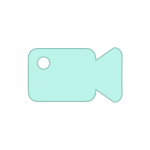 Video Recording
YES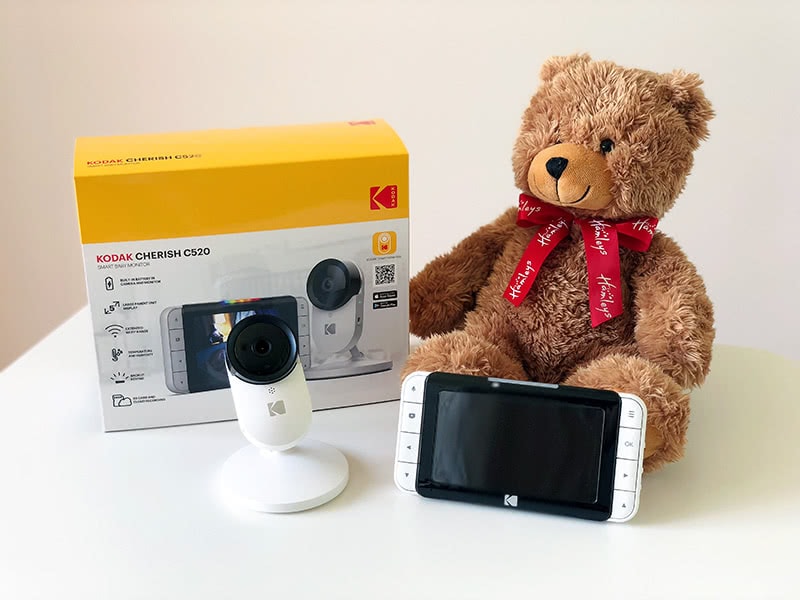 P.S. We received a review unit of this product from its manufacturer. We are, however, not paid or compensated for our review. To remain impartial in our tests, we use objective ranking factors and put each product in the hands of real parents for a few months before we publish our review. Read how we test to learn more.
Everything that we review is independently selected by our team. We only recommend products that we use ourselves with our kids. To support our website, we may receive a small commission if you buy something through our links. These commissions come at no extra costs for you. Read our earnings disclaimer to learn more.
Our Hands-on Review of the Kodak Cherish C520
Even though we are a bit geeky and enjoy the latest in tech, we do in general prefer radio monitors over WiFi monitors. That's for a simple reason: radio monitors come with a dedicated parent unit to keep an eye on your baby. WiFi monitors, on the other hand, require a mobile app and your phone to function.
A dedicated parent unit is a huge plus when using a baby monitor at home. You can leave the screen always on during the day if you want and use it on VOX mode during the night. Most parent units also have large buttons on the side to perform specific tasks, making them easier to operate than your phone. Especially in the dark during the night.
Radio monitors also tend to be better in terms of privacy because they are harder to hack. Read more about baby monitor privacy and what you can do to protect yourself.
But WiFi monitors do come with a lot more features. Because they connect to the internet, WiFi monitors can significantly extend the capabilities of a baby monitor. First and foremost, a WiFi connection means that the range of your monitor is virtually limitless. This is a big plus in favor of WiFi monitors if you live in a large house or want to keep an eye on your baby when you're out and about.
Most WiFi monitors can also record special video moments if you want. Sometimes, my son sings a little before falling asleep. It's adorable and I love to be able to record those moments to share with his grandparents.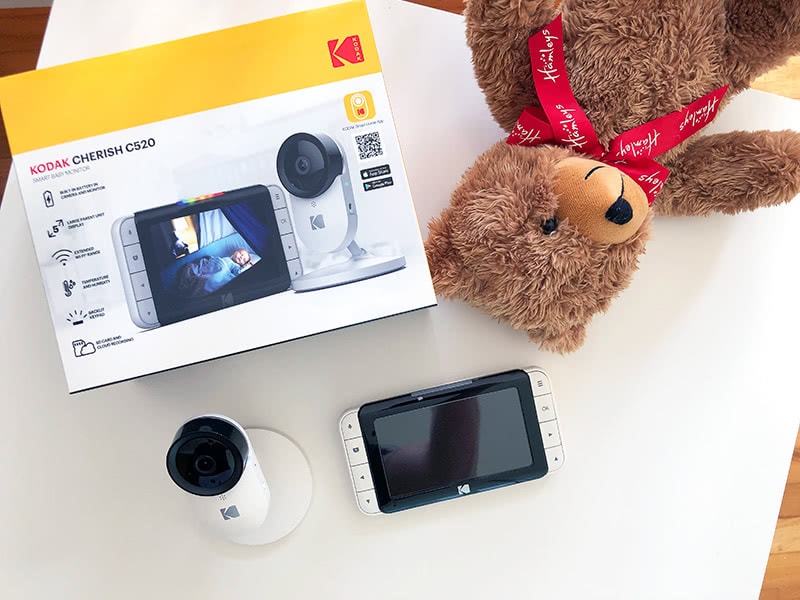 Until now, you had to choose between one of these two options: a trusted radio monitor with limited capabilities or a WiFi monitor with some level of risks. With the Kodak Cherish C520, it's no longer the case!
The Cherish C520 is the first baby monitor that we've tested that can stream audio and video over both radio and WiFi connection. So you can now get the best of both worlds.
The radio connection works right out of the box. The camera and the dedicated parent unit (the screen) will automatically pair together and work as is. You don't need to connect them to your WiFi network. This is great if you want to keep video of your baby off of the internet. It also has a built-in SD Card slot so that you can record video or take photos.
If you do decide to connect the camera to the Internet, you'll be able to access the video feed via the Kodak app on your phone. The app is available for both iOS and Android (the download links are below). Once connected to the internet, you'll be able to stream the video wherever you are, thus extending the range of the radio signal.
The Kodak mobile app comes with a few handy extra features such as a movement detector and the option to automatically record and save 30 seconds videos through the night so you can easily see in the morning how your baby slept.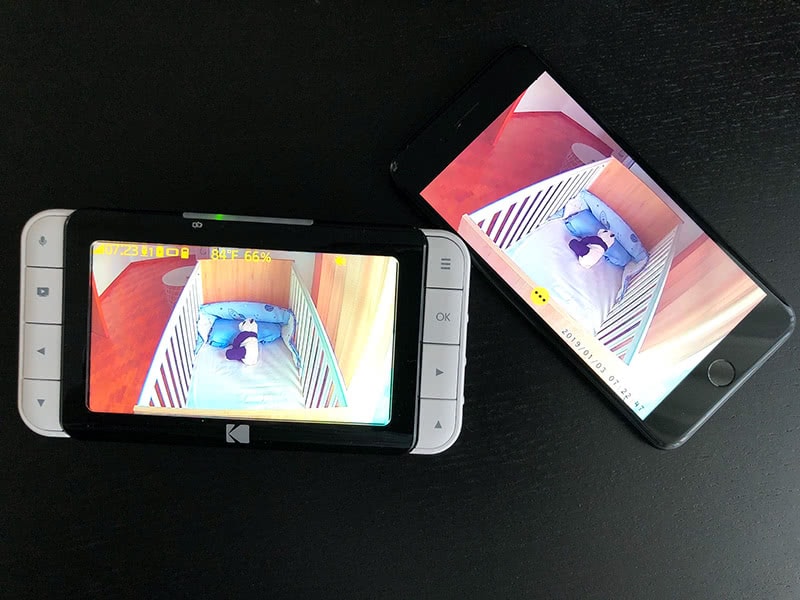 Audio and Video Quality
The audio and video quality with the Kodak Cherish C520 monitor is excellent. You get a 800×480 resolution camera and monitor, which is on par with most of the other monitors in our tests (but half that of the Nanit Plus and iBaby Care M7 at 1080p).
The picture is sharp and clear on the dedicated parent unit. And if you bought your mobile phone or tablet in the past 4 years, the picture will look great on your screen.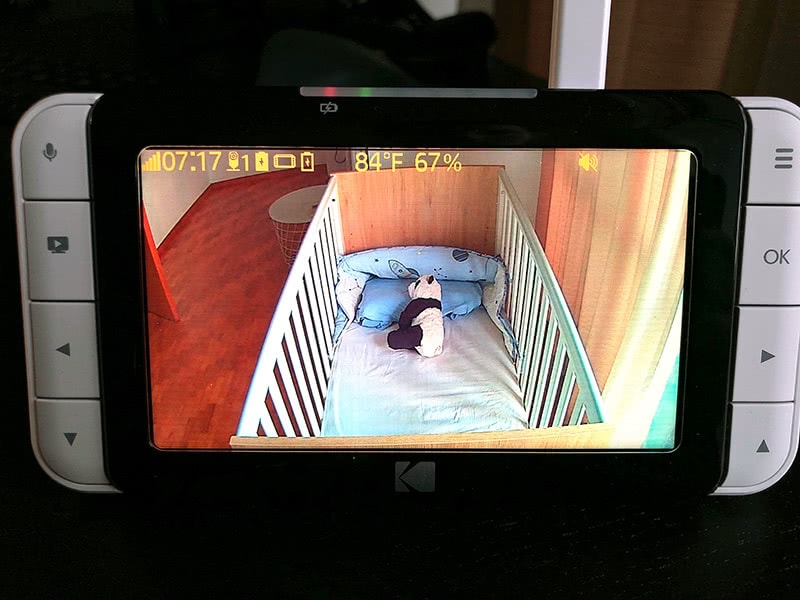 Over radio connection, the video is smooth for about 100 feet (30 meters) indoors. Over WiFi, we found the video streaming experience a little bit less smooth even though our WiFi connection is strong.
But WiFi connection means unlimited range. You can access the video stream feed even if you're not home. If you're having dinner outside, you can just check on your baby with your phone to make sure the babysitter managed to put them to bed on time. You can also share it remotely with other family members if you want.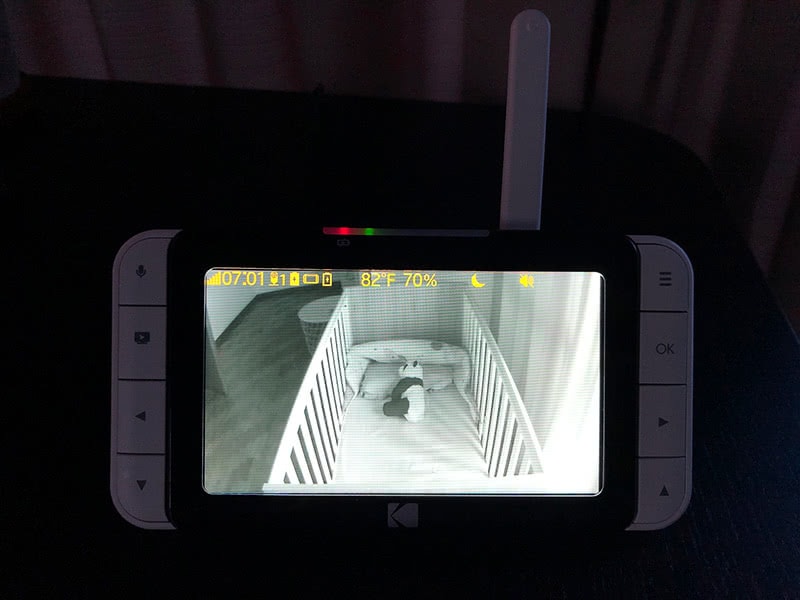 The night vision on the Kodak Cherish C520 camera is excellent. The image is well contrasted and sharp. You'll be able to see your baby clearly even in the dark or low light. The camera will automatically switch to night mode once the light is too dim in your baby's bedroom.
You can zoom in easily with your fingers on your phone or with dedicated buttons on the parent monitor, as with most of the other WiFi baby monitors in our tests. The quality of the image remains will decline as you zoom in, however.
While you can remotely zoom, the Kodak Cherish C520 doesn't remotely pan or tilt. You'll need to opt for its bigger brother, the Cherish C525 if you want that feature.
Rechargeable Batteries
Another interesting feature that sets the Cherish C520 apart is the option to use the camera without a power cable. Both the camera and the monitor come with rechargeable batteries, allowing you to easily move them around your house.
The camera battery will last you for about 5 hours and the parent unit 4 hours. So it's not enough for an entire night, but it's plenty enough for the daytime nap.
That's great when traveling.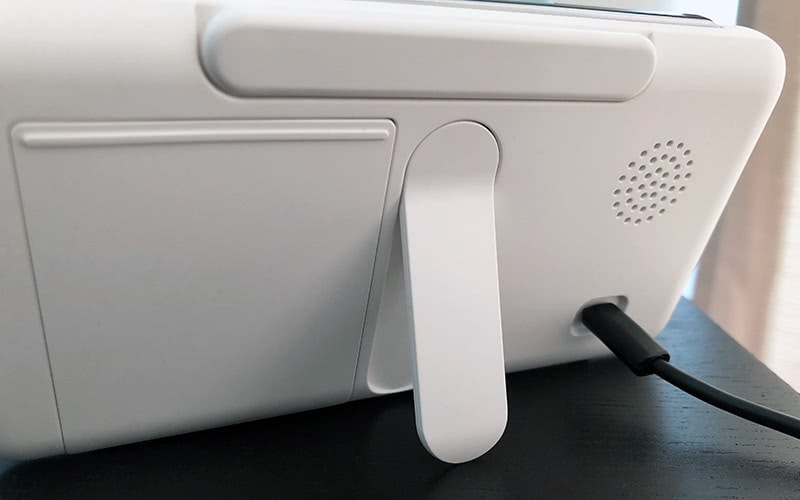 The Kodak Mobile App
If you want to connect to the camera over WiFi, you'll need to install the mobile app on your phone. The installation process is straightforward and easy to follow. You can download the Kodak app for Android and iOS, register your account, connect to the camera and you're all set.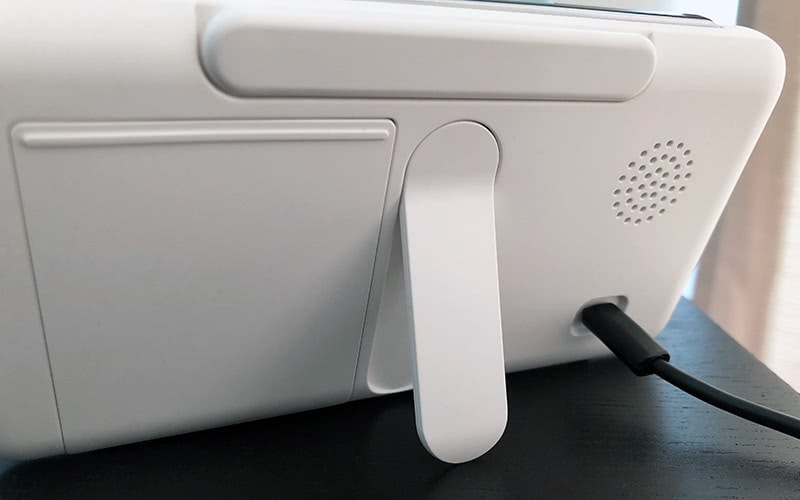 The mobile app also enables you to connect to up to 10 cameras (versus 4 if you're only relying on the dedicated parent unit).
There are three tabs at the bottom of the app to help you navigate from the live view of your baby, the photo and video recording options, and the activity tracker.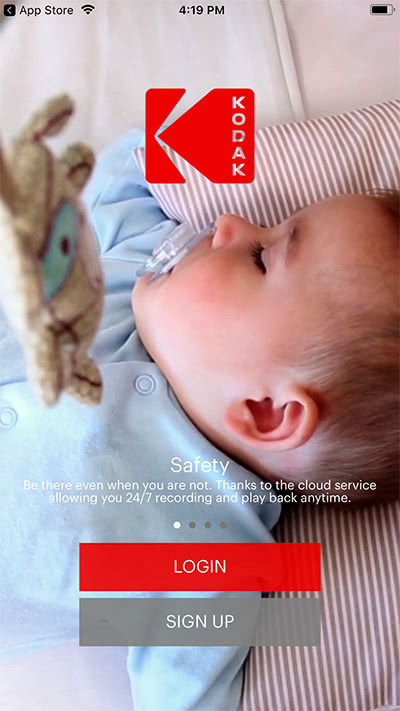 The live feed shows up in full screen when your phone is on landscape mode and looks great thanks to the HD camera. You can take photos, record videos and turn on the talkback option with the bottom menu, play a lullaby, or turn on the night light. You can also see the room temperature and humidity.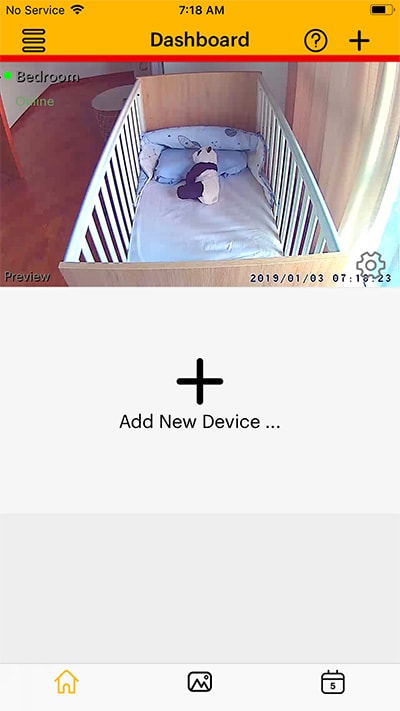 Some options, most notably the VOX mode and lullabies are only available when using the dedicated parent monitor, however. That's a bit of a shame as you'll need to keep your screen always on if you want to be alerted by the camera. The Nanit Plus is the only WiFi baby monitor that doesn't have that problem at the moment.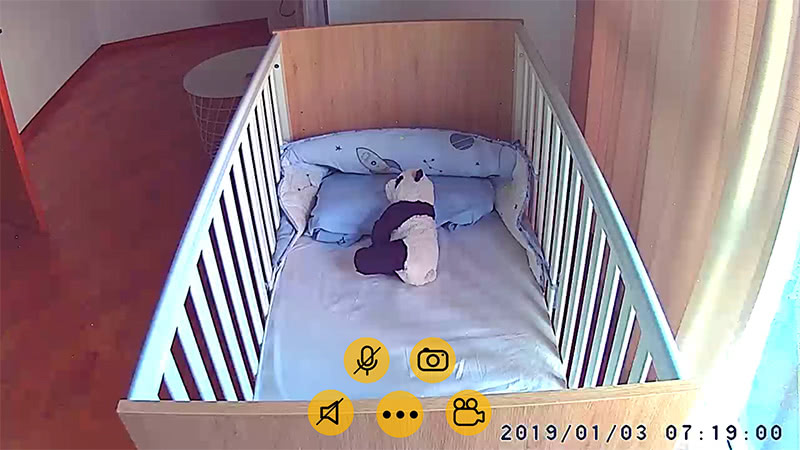 The activity tab is where you'll find a chronological list of everything that the camera tracked while your baby was in bed. The app will even compile video summaries of your baby's night so you can check in the morning how their night went.
You might be surprised to see that there is a lot of movement going on there.
The history of each night will be kept for 24 hours with the free Kodak cloud plan.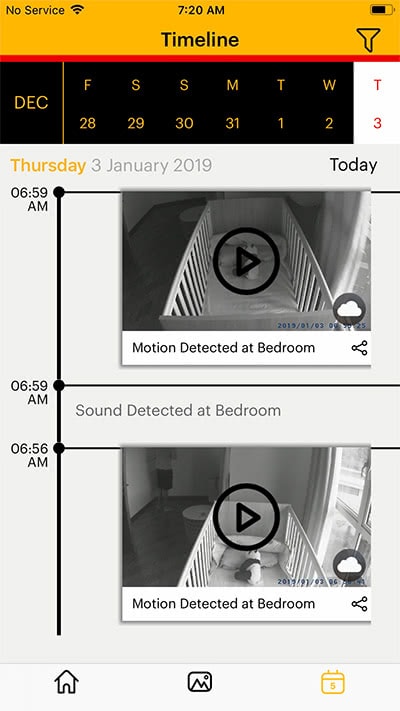 Finally, there is a settings tab where you can configure the app. When you set up the camera for the first time, you'll go there to identify the area of the image that needs to be tracked by the motion sensor (your baby's crib).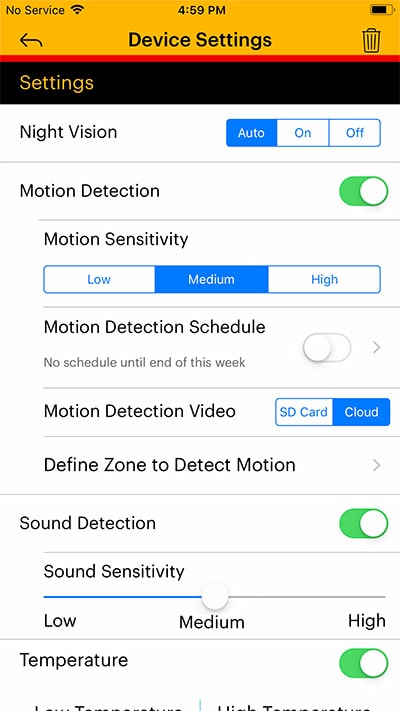 The device setting panel in the Kodak app lets you configure several other important options, such as the motion detection sensitivity and the location for photos and videos to be saved. You'll need to insert an SD card (sold separately) if you want to keep photos and videos beyond just 24 hours.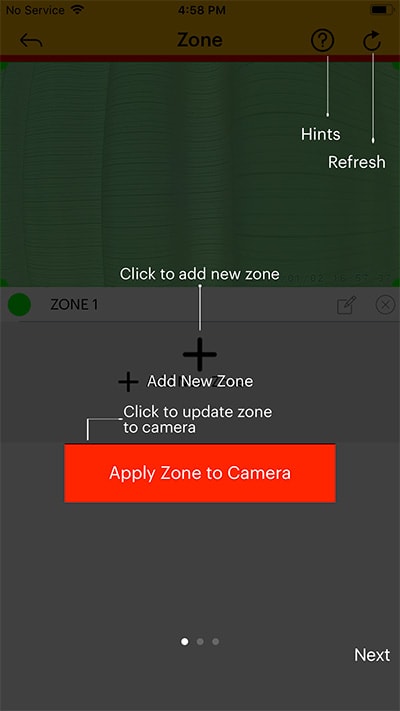 It's also in the settings that you'll be able to add more viewers (your partner and your parents, for example) or more camera units if you have more than one baby at home.
Security: Kodak Camera Hacking
Because the Cherish C520 camera can use both radio frequency and WiFi to stream the audio and video, it's potentially more prone to hacking than basic radio monitors. Unlike an encrypted radio signal, such as FHSS or DECT, WiFi baby monitors do not require you to be in physical proximity of the camera to see what's happening.
That means that if a hacker manages to breach your router security, they could tap into your baby monitor. You should read this article on baby monitor hacking to make sure that you understand the risk and learn how to appropriately protect yourself.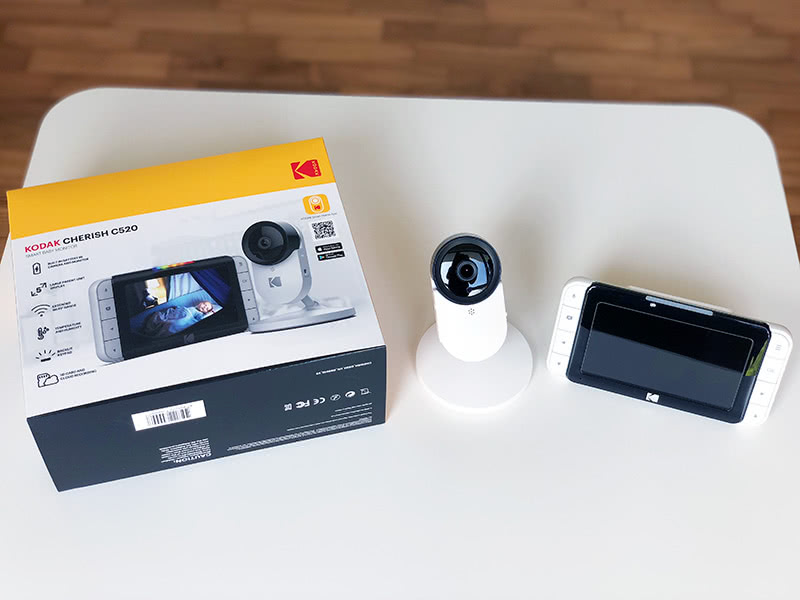 Kodak Baby Monitor Health and Safety
In addition to WiFi, the Kodak baby monitor also connects to its parent unit through a wireless 2.4 GHz FHSS connection. It means that an electromagnetic field (EMF) will be constantly emitted from the camera to the monitor in order for you to receive an audio and video feed. We recommend that you read our article on electromagnetic field if you want to understand what it means in terms of health and safety for your baby.
In our testing, the Kodak Cherish C520 camera produced an average EMF reading of 1.44 mG when placed 6 foot / 1.8 meters away from our baby's bed. This is the minimum approximate distance for most baby monitor cameras. The Environmental Protection Agency recommends that you limit your exposure to 0.5 mG to 2.5 mG at a time, so this is within range. The further you place the camera from your baby, the less EMF they will be exposed to.
Note that the parent monitor also emits EMFs. When placed at 3 foot / 1 meter from you, it will produce an average of 3.2 mG. Most parents will sleep with the unit on their bedside table, but we recommend you move it further away.
Kodak Cherish C520 baby monitor: What's in the box
Wondering what's in the box? Here's everything that will be included in the Kodak Cherish C520 when you buy it on Amazon:
1 x Baby camera unit
1 x Parent monitor unit
2 x USB Power Adaptor
2 x Batteries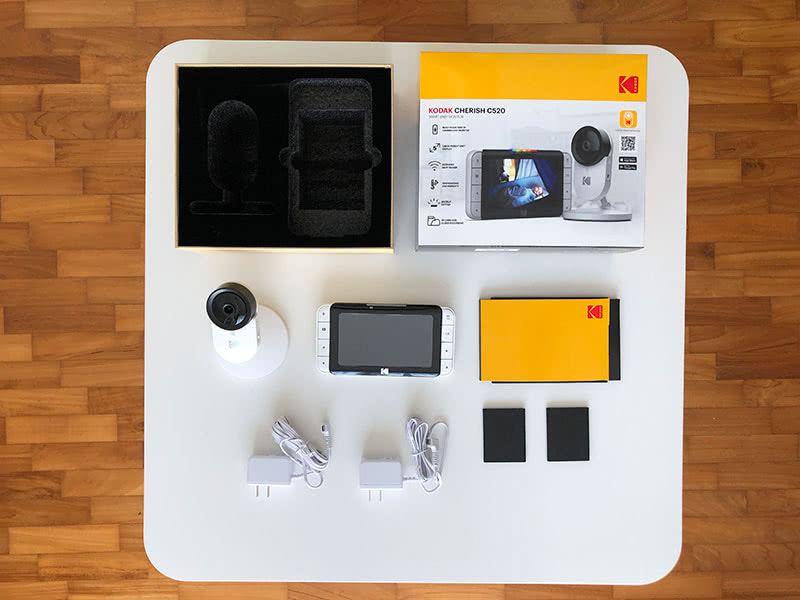 Kodak Cherish C520: Most Frequently Asked Questions
Question: Can I use multiple cameras with the Kodak Cherish C520?
Answer: Yes. You can add up to 4 cameras to the parent unit (the dedicated screen), and 10 cameras when using the mobile app.
Question: Can I see more than one camera at a time?
Answer: No. The Kodak mobile app supports multiple paired cameras at the same time, but you can only see one live video stream at a time. You will see regularly updated screenshots of every feed, however.
Question: Does the Kodak Cherish C520 work with Alexa, Google Assistant or Siri?
Answer: No.
Question: Is the battery life sufficient?
Answer: The camera battery can last for 5 hours between charges. The parent monitor battery can last for 4 hours. It's enough for a nap while you're away from home but won't last you an entire night.
Question: Can the Kodak Cherish C520 be wall-mounted.
Answer: Yes. The camera is wall mountable.
Question: Does the Kodak Cherish C520 have an iPhone App?
Answer: Yes, and an Android app as well. See the section at the bottom of this page for the links to download either mobile app.
Question: Can it be voice-activated?
Answer: Yes, but only when using the parent monitor. The Kodak Cherish C520 has a VOX mode that allows you to turn off the monitor screen and still hear the audio when needed.
Question: Can I speak to my child through the Kodak camera?
Answer: Yes. The Kodak Cherish C520 baby monitor has a talkback function. You can use it both with the parent monitor and the mobile app.
Question: What is the Kodak baby monitor warranty?
Answer: The Kodak Cherish C520 comes with a two-year warranty. We recommend you visit Kodak Smart Home (support.kodaksmarthome.com) if you experience any issue with your model after purchase
Question: What is Kodak's customer service number?
Answer: If you're calling from the US, you can contact Kodak by phone: 1-855-881-3508. You can also email their support team. Their email support center should get back to you within 24 hours.
Kodak Cherish C520 User Manual
You can download the Kodak Cherish C520 baby monitor user manual here and the quick start guide here.
The model used for this review was provided to us by Kodak. We only accept test models on the condition that our reviews and opinions remain independent. Images by Baby Gear Essentials.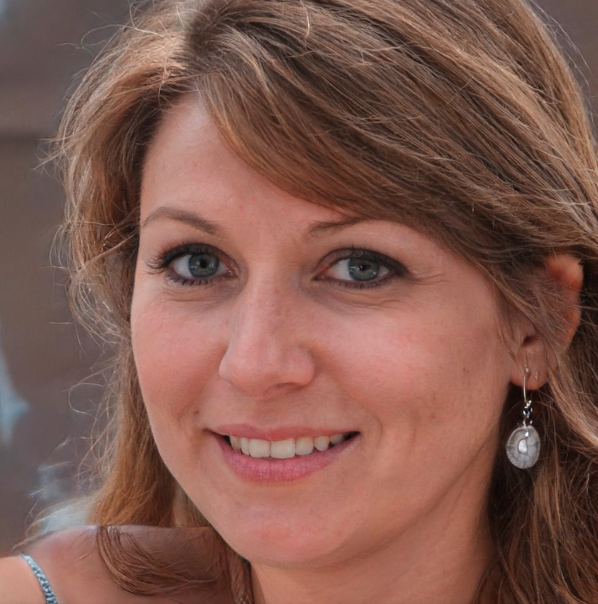 Samantha is a busy mother of four, who loves finding the best products to help in raising children. She graduated from BYU in Marriage and Family Studies. When she isn't writing or testing new products, you can find her playing board games with her kids and teaching them creative strategies.