The baby monitor game has changed dramatically in the past few years, and it's about to get even more exciting with some of the best new baby monitor features in 2023!

The top baby monitors of 2023 continue to expand their features to keep up with one another and the new technology for baby monitors promises to keep parents connected with their baby like never before.
QUICK GUIDE: IN THIS ARTICLE
We see baby monitors continue to improve on core features like audio and sound quality – so clear parents can see and hear their baby's every breath. Some of the most impressive features to have been released in the baby monitor world are different sensors, alerting parents when their baby is moving out of a specific area or when the temperature goes out of a certain range.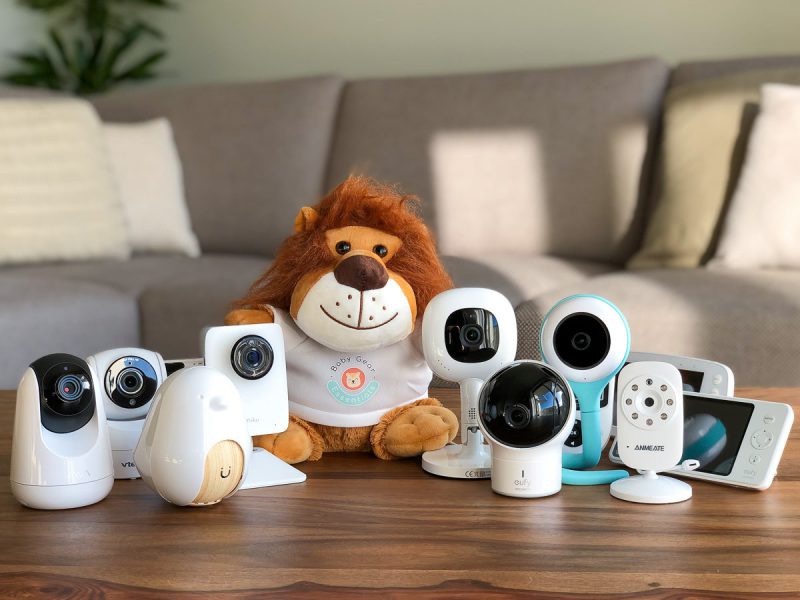 In addition many baby monitors have expanded functionality and can be used by more than one user at the same time, or leverage more than one camera at the same time. They have also begun to expand their compatibility with other devices, such as Google Nest or Alexa Echo.

The new baby monitors of 2023 are pushing the boundaries of what parents thought was possible in terms of baby monitoring technology. Below we outline many of the top improvements we are seeing across the industry and call out examples with specific baby monitors. Some of the best new baby monitor features are sure to revolutionize how we keep an eye on our little ones!
Improved Core Features of Baby Monitors
We continue to see improvements in the core features of a baby monitor, including:
Zoom quality
Video quality
Audio quality
Pan and tilt capabilities
Range (for non-WiFi systems)
Multi-user and multi-camera set up
Core feature improvements are a must with each new baby monitoring version or release, with clear audio and 1080 HD video quality being a new baseline. In addition, we see some of the biggest differentiators among baby monitors being in their night vision quality, with grainy video resolution being a thing of the past.

Another great feature is the ability to support multi-users or multi-cameras. For example, the Nanit Pro recently added the ability to view and control two cameras simultaneously with their new split screen feature, helpful for twins or when monitoring more than one child.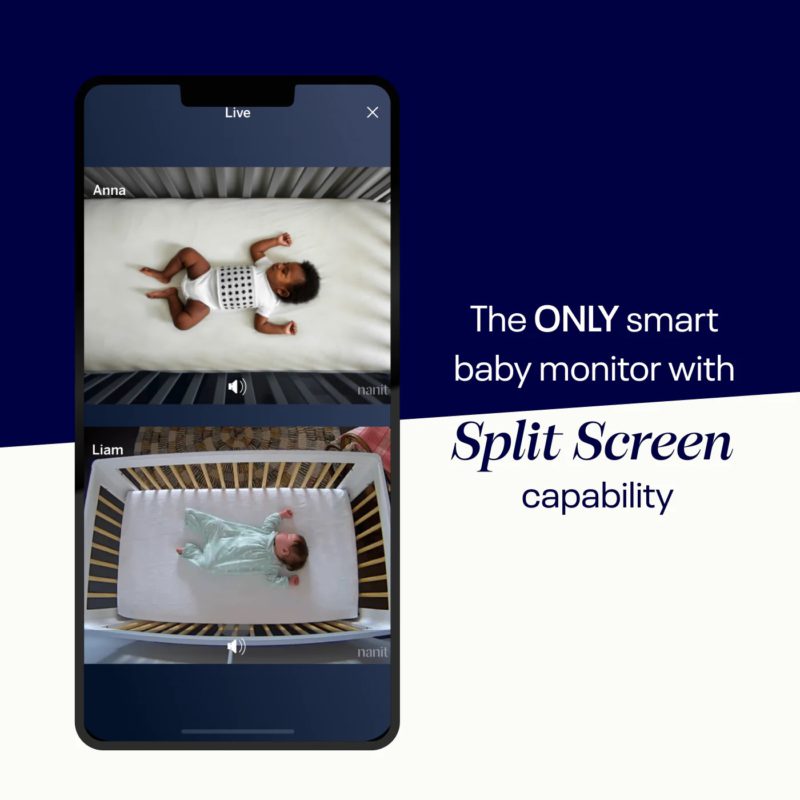 In addition, some baby monitors work to improve audio quality by including a feature to reduce additional background noise. For example, the Infant Optics DXR-8 Pro includes an Active Noise Reduction feature which filters out background noises such as fans, heaters, air purifiers, humidifiers, and other sounds commonly heard on your baby's monitor as static noise.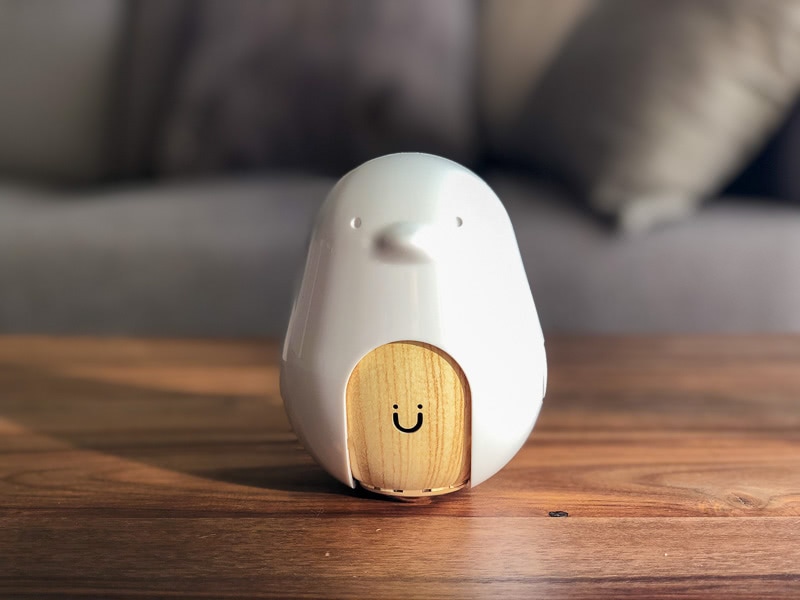 Sleek New Baby Monitor Features and Designs
The top baby model designs continue to improve with each version, sometimes with a smaller design for convenience, sometimes with a larger design to increase screen size or capabilities, and other times it may be to provide a new color in order to be aesthetically pleasing. Either way we continue to see improved, sleeker designs year-over-year.

In addition, we continue to see new additions to the mounting options for the baby monitor cameras. Some of the most popular baby camera mounting options are: wall, ceiling, crib, table, or stand. Each mounting option provides different pros and cons for safety requirements, read our article on where to put your baby monitor to learn more.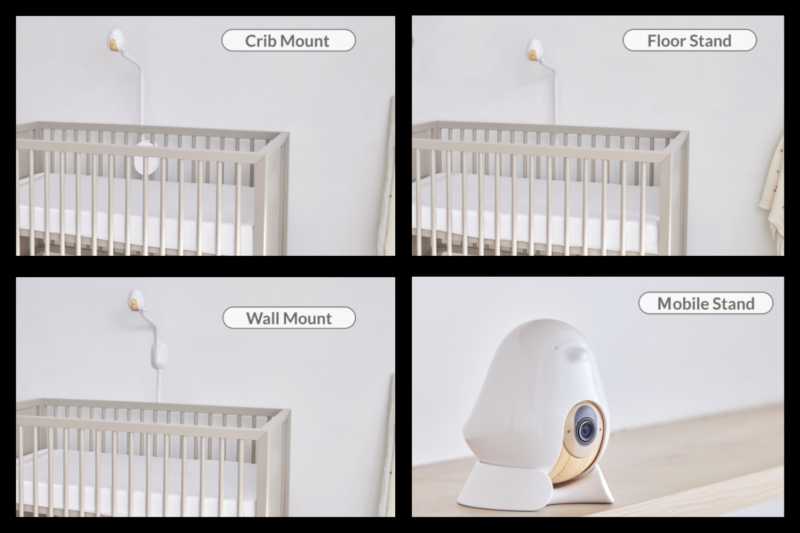 VOX Enhancements and Configurable Sensitivity Settings
VOX stands for "voice-operated exchanged", also known as "voice activated transmission", and is commonly used with walkie-talkies. With VOX the microphone is always listening for noise, but with improvements it can be focused specifically on a voice or crying. When it detects these specific things, it then starts broadcasting.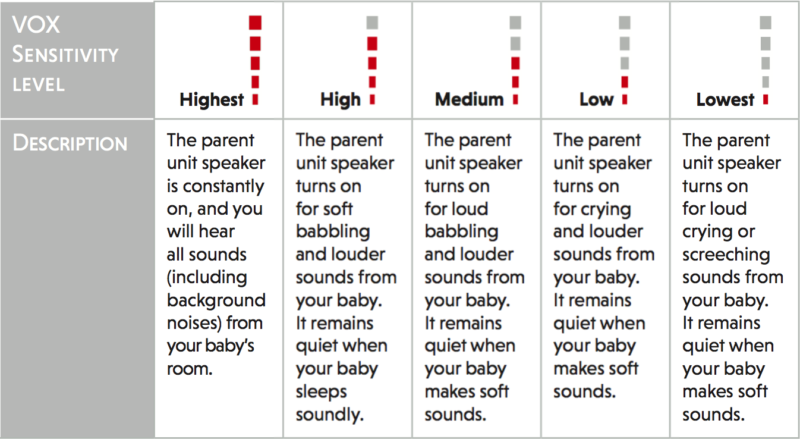 With many baby monitors the sensitivity level of VOX can be adjusted and additional improvements include the VOX feature itself more focused on baby specific needs. For example, the Cubo Ai baby monitor includes a "true cry detection" feature to focus specifically on alerting parents when the baby cries.
Monitoring and Sensor Devices in Baby Monitors
Definitely the hottest new features of baby monitors are the different sensors to monitor such things as breathing and movement, temperature and humidity, face-coverings, coughing, and more.

Monitoring these different levels, allowing parents to specify appropriate ranges, and alerting parents when conditions go out of these normal ranges, provides parents with peace-of-mind and helps them instill healthy sleep habits with their child.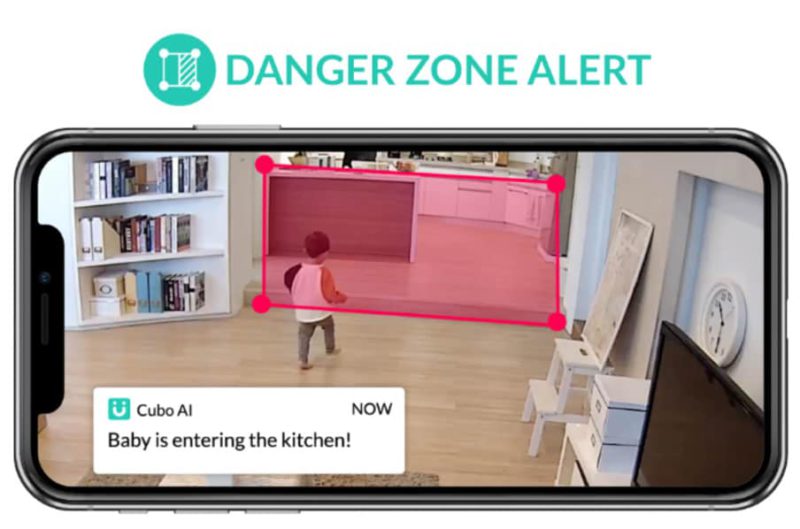 In addition, some baby monitors offer the ability to mark an area of field as safe or dangerous, like the Cubo Ai "Danger Zone Alert" feature. This allows parents to minimize alerts when a child is in a certain area, and be alerted if they enter a more dangerous area.
Breathing and Movement Monitoring in Baby Monitors
Another source of monitoring to provide peace of mind is breathing and movement monitoring. Although breathing and movement detection are not specifically a medical device and do not necessarily prevent SIDS (Sudden Infant Death Syndrome), these types of sensors do provide additional information for parents.
Some breathing and movement monitoring, like what is offered with the Lollipop baby monitor and the Miku Pro, requires no sensors, wires, or wearables at all.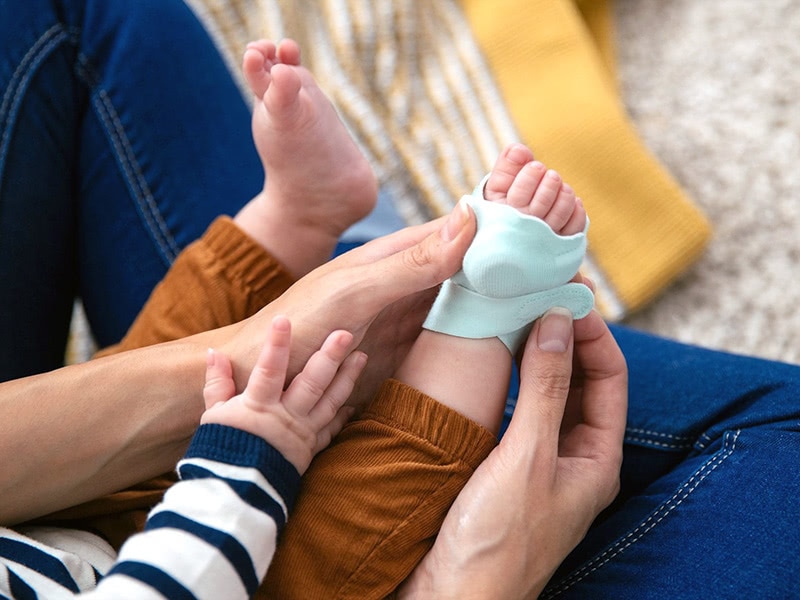 Other monitoring includes sleep pads like those from Nanit, Hubble, or Cubo Ai, or wearables, like the swaddles or band, from Nanit or the Dream Sock from Owlet. These sensors detect the baby's breathing and movement, while alerting parents when the child really needs you.
*Owlet designed a sock which notified users of changes to heart rate and oxygen levels; however, after receiving an FDA letter they updated the Smart Sock to the Dream Sock which now monitors "Sleep Quality Indicators", including wakings, movement, heart rate and average oxygen level. They have already released a second version, the Dream Duo 2, which added Cry Notifications, Video Clips, and New Color Options to the original features.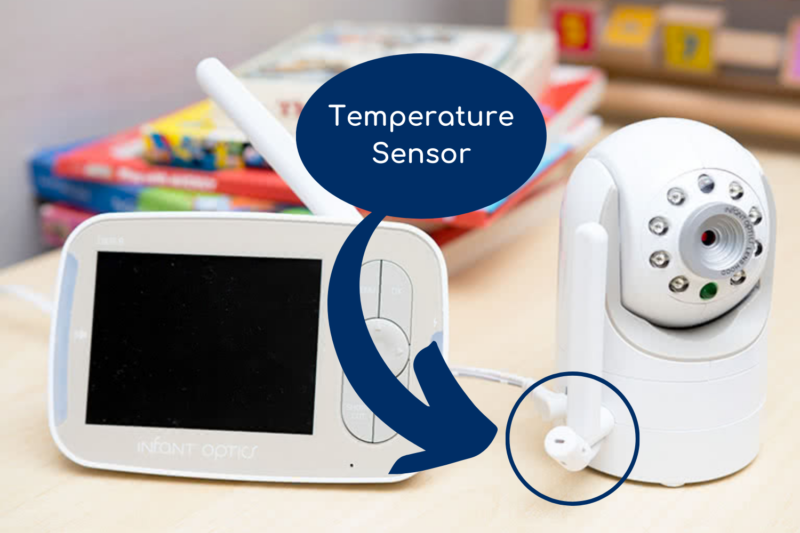 Temperature and Humidity Sensors in Baby Monitors
Many of the baby monitors on our Best Baby Monitors of 2023 list include temperature and humidity monitoring. This isn't necessarily a new feature in baby monitors, but the ability to set a specified range otherwise alert is, making it worth calling out in our list of monitoring features in baby monitors.

Temperature and humidity monitoring typically mean the camera device has a sensor for each and sends the parent device an alert when the temperature or humidity rises or drops out of preset safe levels.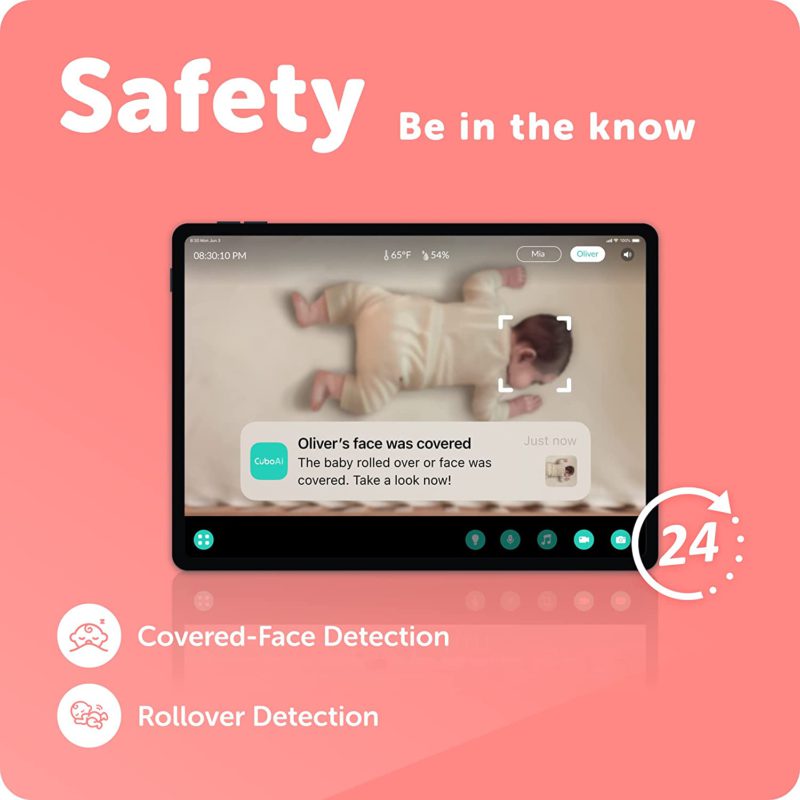 Face-Covering Sensors in Baby Monitors
Another great monitoring feature we are seeing in baby monitors is the ability to detect and alert parents if the baby's face is covered. For example, the Cubo Ai baby monitor has a real-time alert feature which detects if the baby's mouth and nose are covered or if they have rolled over and are face down.
HSA/FSA Eligible Baby Monitors
With many baby monitors now providing breathing monitoring features, we may see an expansion in the list of baby monitors eligible for reimbursement with a flexible spending account (FSA), health savings account (HSA) or a health reimbursement arrangement (HRA). Currently the list of eligible baby monitors for reimbursement includes the Nanit Pro and the Miku Pro.
WiFi Monitors: App and Connectivity Improvements
Many of the baby monitors are WiFi systems that do not come with a separate monitoring device, but rather require parents to download an app on their cellular device. These apps allow parents to identify sleeping trends or changes in trends, and may even offer personalized tips and expert coaching that improves sleep quality.
For example, Miku Pro offers a subscription called Care+ that lets parents stay updated on unexpected changes on their child's sleep and breathing patterns and notifies them if there is an important change detected.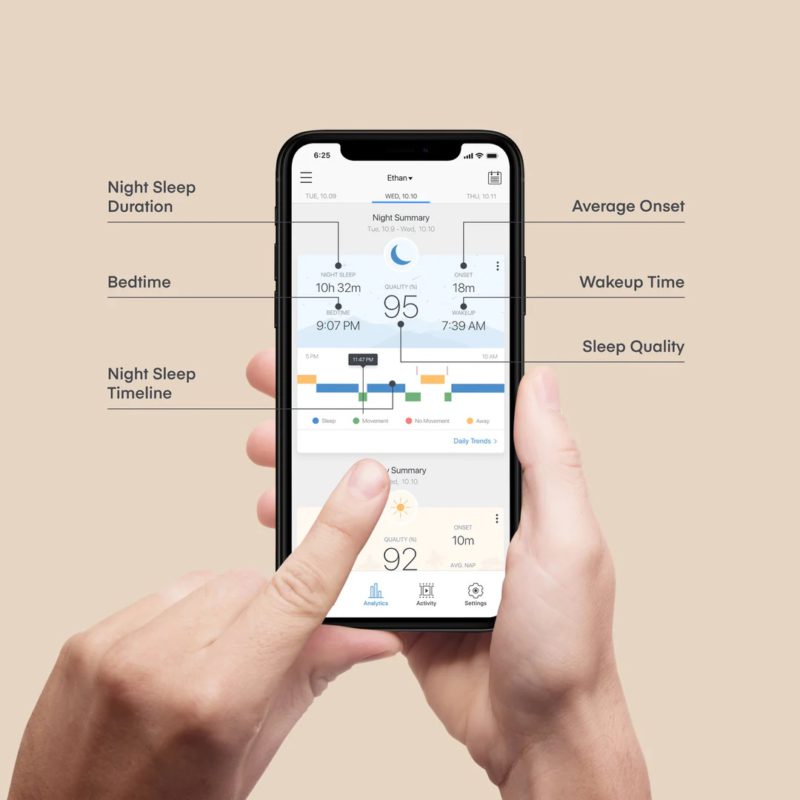 Another problem that we see improving is how often the apps crash. Early on we saw frequent complaints about apps crashing or the camera going "offline", since these types of WiFi baby monitors typically require a reliable internet connection.

But some recent feature improvements allow baby monitors to continue to work even when the internet connection is down, like the Miku Pro. They believe that an internet signal shouldn't impact a parent's ability to monitor their baby and it works in real-time, locally, even when the internet connection isn't working!
Baby Monitors Increasing Compatibility With Other Devices
As technology around baby monitors increases, we see the list of compatibility devices increase as well. Demand for this type of feature comes from customers themselves, with the most popular compatible devices being: iOS, iPadOS, Mac/Apple Computers with a M1 Chip, Android, Amazon Echo Show, and the Google Nest Hub.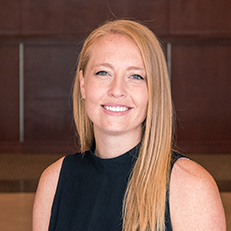 Megan is a wife and mother of three, as well as an experienced foster mother. She loves building and testing new products, and helping identify what works best for readers and clients. She has her degree in Computer Software Engineering and has been a Product Lead with over 8 years of experience designing, building, testing, and selling products to companies ranging from sole proprietors to the largest retailers in America!